Galaxy S4 vs Sony Xperia Z1 Compact initial look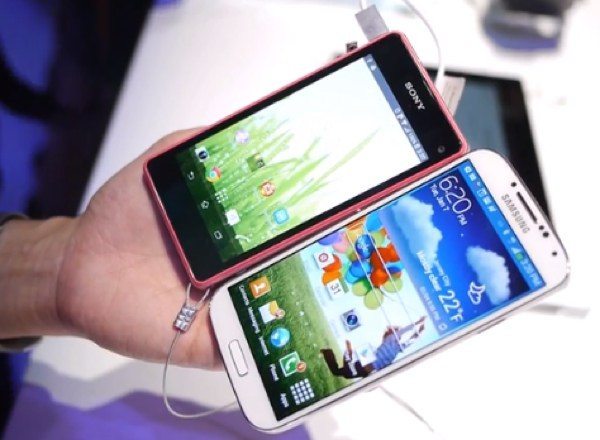 The Samsung Galaxy S4 is a dominant force in Android smartphones and is still extremely popular although it released last spring. This week we saw the unveiling of a smaller version of the Sony Xperia Z1 flagship, this one dubbed the Sony Xperia Z1 Compact. Today we have a Samsung Galaxy S4 vs. Sony Xperia Z1 Compact initial look to share with readers.
The Sony Xperia Z1 Compact will be released in the coming weeks and is likely to find plenty of success. Although it has a smaller display size than the Xperia Z1, it still has many of the same high-end specs that its larger sibling is admired for.
Although the Galaxy S4 has a 5-inch display the Xperia Z1 Compact offers a 4.3-inch display so if you don't mind a slightly smaller screen size then the Z1 Compact could be a good choice. We've already given a comparison of the Xperia Z1 Compact and iPhone 5S here, so you can check that out for more on specs about the Z1 Compact.
The 3-minute YouTube video that we've embedded below this article shows a hands-on first look at the Samsung Galaxy S4 and Sony Xperia Z1 Compact and offers a good chance to see how they compare close-up. It begins by showing the two handsets alongside each other and you can see that overall they are very close in size.
The 1080p display of the Galaxy S4 is shown against the 720p display of the Xperia Z1 compact, with the reviewer pointing out that there really isn't too much difference between the two in this respect. However preference is shown for the AMOLED display of the Galaxy S4.
Designs are also discussed, with the new Sony Xperia Z1 Compact coming in some attractive color options, although the casing of it is more prone to showing fingerprints and debris than the Galaxy S4's. The Xperia Z1 Compact does have a 20.7-megapixel rear camera though, as opposed to the 13-megapixel set-up on the Galaxy S4.
The Sony Xperia Z1 Compact also has the benefit of being waterproof, which is a nice bonus. The video also touches on the user interfaces and if you're thinking of purchasing one of these two smartphones this will give you a useful brief oversight.
What do you think of the new Sony Xperia Z1 Compact? Are you likely to purchase this phone, and if so what is it that most appeals to you? Maybe you're more attracted to the popular but older Samsung Galaxy S4? Let us know with your comments.