iPhone 5S iOS 7.1 Beta 3 vs Nexus 5 Android 4.4.2 speed look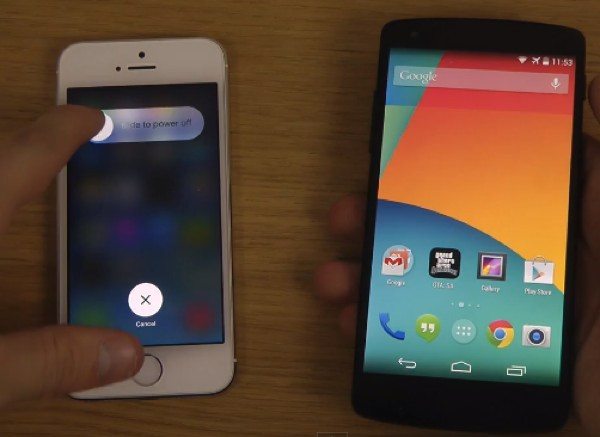 Apple's iOS 7.1 is on the way to a public release but at the moment is still in the beta stage at the hands of developers. We now have a video to show that looks at the iPhone 5S with iOS 7.1 beta 3 vs. the Nexus 5 running Android 4.4.2 KitKat.
Recently iOS 7.1 beta 3 arrived and we've been bringing news on what it offers. Earlier today we shared a video speed test of an iPhone 5 running iOS 7.1 beta 3 compared to an iPhone 5 running the currently available iOS 7.0.4.
This latest video is also interesting as it shows a speed test of the latest beta stage of iOS 7.1 on the iPhone 5S against the Google Nexus 5 Android device running the latest version of that operating system, 4.4.2 KitKat.
We've embedded the 3-minute YouTube video below this story and at the beginning we can see the new slide to power off screen coming to iOS 7.1 when it makes it to the public. Both devices are then powered down and the Nexus 5 turns off first while the iPhone 5S running iOS 7.1 beta 3 appears to take quite some time to shut down.
The handsets are then simultaneously booted up and the Nexus 5 running Android 4.4 KitKat is also quicker to power up. However, this time there's only a very small difference in the speed, with the iPhone 5S following very closely behind.
The Android Nexus 5 is the winner in this round of speed tests, but of course we should remember that the iPhone 5S is running a beta of iOS 7.1. Therefore, speeds could well be improved by the time of the final build.
Why not give us your thoughts on this iPhone 5S iOS 7.1 beta 3 vs. Nexus 5 Android 4.4.2 speed test by sending your comments. Do you think iOS 7.1 will prove to be quicker by the time it arrives for a general release?