LG G Flex UK availability and prize draw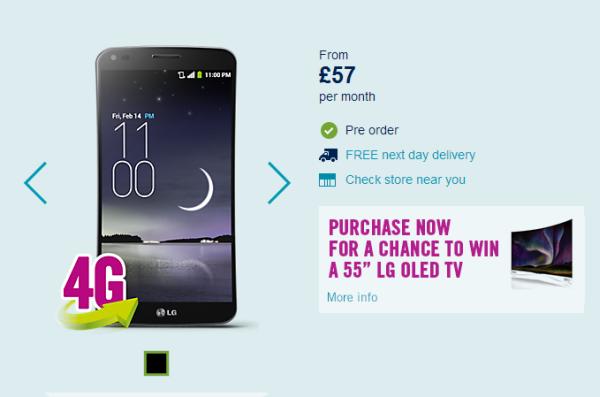 The LG G Flex first made an appearance last year but since then we have seen the device slowly making its way around the world to more markets, and now we have news of some LG G Flex UK availability and a prize draw that could see you win a 55-inch OLED TV.
We reported before that that the LG G Flex would be hitting the UK at some point during next month, and the handset is now confirmed for the 1st. Already high street retailer the Carphone Warehouse has put the device up on its website for pre-order starting at £57 per month.
Those that decide to purchase the LG G Flex with the retailer before the end of March will be entered into a free prize draw to win one of three LG 55-inch OLED Curved OLED TVs that are worth a colossal £6,999, and would be perfect to watch the 2014 FIFA Brazil World Cup on in the summer.
The contracts on offer from the retailer that costs £57 each month is with carrier O2 that requires a £49 up front fee and provides unlimited talk time and SMS text messages, and this comes with a huge 8GB of 4G data downloads from the carrier.
There are also some other tariffs available from both O2 and EE with the cheapest monthly cost coming in at £37 per month with O2, but this needs a £179 or £199 up front fee.
Will you be getting the LG G Flex?