Galaxy Note 3 Android 4.4 vs iPhone 5S iOS 7.1 beta 4, fastest shown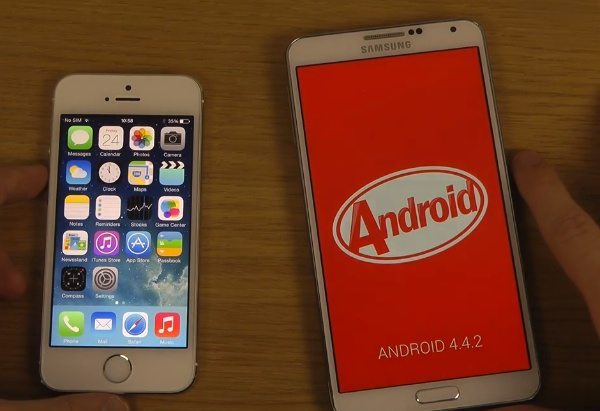 The Apple iOS and Google Android operating systems are constantly being updated to offer improvements and new features, and it's always interested to see flagship devices compared as far as the latest software is concerned. With this in mind today we want to show you the Samsung Galaxy Note 3 running Android 4.4 vs. iPhone 5S on iOS 7.1 beta 4, which recently made its way into the hands of developers.
The official Android 4.4 KitKat update is now rolling out to various devices while Apple is currently working on iOS 7.1, rumoured to be heading for a public release in March. iOS 7.1 beta 4 was made available for developers a few days ago and we've already shown an interesting look at the iPhone 5S, 5, 4S and 4 running the latest beta in an Internet speed test.
Now we have a video to show you, which attempts to answer the question of which is fastest in a very basic speed test— the Samsung Galaxy Note 3 (SM-N005) on Android 4.4.2 KitKat or the iPhone 5S on iOS 7.1 beta 4. The YouTube video below this story begins with showing that the phones are indeed running the above operating system versions.
Both phones are then powered off before being powered back on again to see which is the fastest to come on. The iPhone 5S is marginally quicker although there's not too much difference between the two devices in this respect.
What is interesting though is that iOS 7.1 beta 4 appears to be slightly faster and of course this is still in beta stage. It will be intriguing to see what the difference is once it makes it to a final release and whether the iPhone 5S is still faster than the Galaxy Note 3 and by how much.
Are you surprised that the iPhone 5S was quicker to power up than the Galaxy Note 3 considering iOS 7.1 is still in the beta stage? Maybe you're not convinced by the results of this test, for instance it has been noted that there were more pages to open on the Galaxy Note 3 than on the iPhone 5S? Let us know what you think by dropping us your comments.