iPhone 5S, 5, 4S, 4 iOS 7.1 beta 4 Internet speed test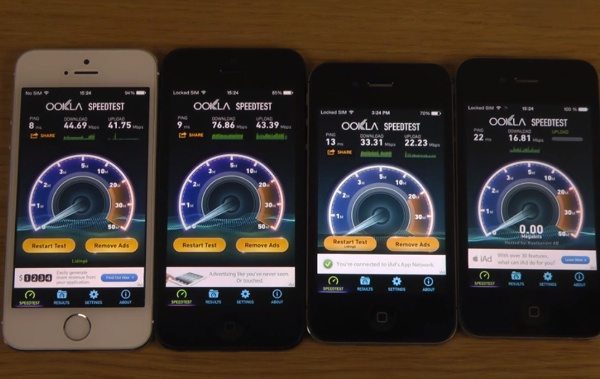 A few days ago Apple released iOS 7.1 beta 4 to developers who continue to test out the latest build of the 7.1 update. It may be some time yet before we see an iOS 7.1 public release, but in the meantime we thought readers might be interested in an iPhone 5S, 5, 4S and 4 iOS 7.1 beta 4 Internet speed test.
A few days ago we shared an iOS 7.1 beta 4 video look at what's new and the final version is rumoured for a release to the public at some time in March, although this is unconfirmed. While we're waiting we thought it would be good to look at speed tests for various iPhones to see how they compare with the same operating system software.
The 9-minute YouTube video that we've embedded for you below this post compares Internet speeds for the iPhone 5S vs. iPhone 5 vs. iPhone 4S vs. iPhone 4. The video begins with showing that all of the four handsets are running iOS 7.1 beta 4 and initially there are some connection problems shown.
Once this hitch is resolved the Ookla Internet speed test app is then opened up on each phone. First you'll see the test performed on the iPhone 5S before the reviewer goes on to begin the test on the other three devices.
As you would expect the iPhone 4S and 4 both show the slowest performances, with the iPhone 4 only managing half the score of the iPhone 4S. The iPhone 5 and 5S fare much better with the iPhone 5 showing significantly faster download speeds than the iPhone 5S, which is more of a surprise.
For reasons of consistency the test is re-run on the iPhone 5 and 5S. The iPhone 5S achieves a higher download score than it previously achieved this time around, but once again the iPhone 5 comes out top. Finally, just in case the iPhone 5 fluked it on the previous two runs the test is repeated one last time, and again the iPhone 5 is the victor.
This is intriguing stuff and we'll be really interested to see the Internet speed test run once more on these same devices once iOS 7.1 beta 5 is made available. You can see all of the individual speeds for these iPhones in the video below. Once you've checked it out we'd love to hear your views on this.
Are you surprised that in this iOS 7.1 beta 4 Internet speed test the iPhone 5 beat the later iPhone 5S every time? Drop us a comment about this.