Blu Vivo 4.8HD is affordable but garish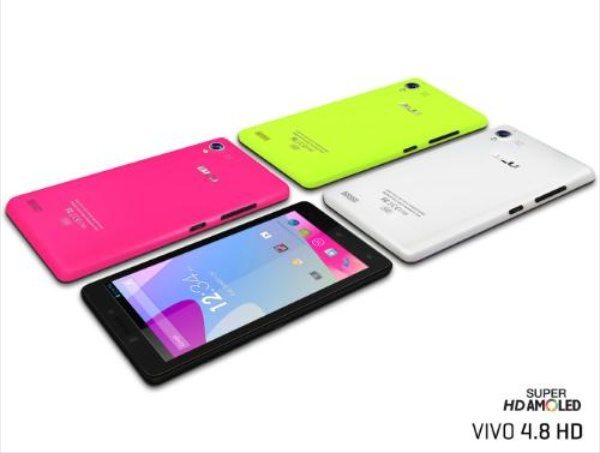 If you're a fan of loudly colored devices with half-decent specs and also appreciate a low-cost smartphone, the new Blu Vivo 4.8 HD might appeal to you. This is an affordable device, although some of the color options are so bright that they could be described as garish.
The Apple iPhone 5C has been making a splash with its bright color choices and yesterday we heard of an upcoming octa-core HTC Desire smartphone with a brightly colored plastic build. However, there's a difference between bright and brash and some might describe the Vivo 4.8 HD as the latter.
Of course there are always a few buyers who want something different enough to stand out and who might really appreciate the Vivo 4.8HD color spectrum. It's available in Glimmer Pink or Electric Neon Yellow and also comes in the more staid options of Matte Black or Ceramic White.
Some of the key Vivo 4.8 HD specs include a 1.5GHz MediaTek quad-core processor, PowerVR SGX544 graphics, 4.8-inch Super AMOLED display with resolution of 1280 x 720, 1GB of RAM and 16GB of internal storage (non-expandable).
It also has an 8-megapixel rear camera with autofocus, LED flash and 1080p video capture, a 5-megapixel front-facing camera, and 2000 mAh battery. This phone runs the Android 4.2 Jelly Bean operating system and it weights 135g. It's very slim measuring 37mm x 70mm x 6.9mm
It's worth pointing out that this new Blu Vivo phone does not have LTE connectivity, although it is compatible with HSPA+ on T-Mobile or AT&T. If you find this phone appealing then you might find the pricing even more attractive, as the unlocked Vivo 4.8 HD price is only $249 unlocked.
The phone is already shipping to various distributors, online retailers and dealers across the US and Latin America. Does the affordable price point of the Blu Vivo 4.8 HD make this phone an attractive proposition to you? Maybe you really like the more vivid color options of the handset?
Source: VPO