Samsung Galaxy S5 specs chart shows prime predictions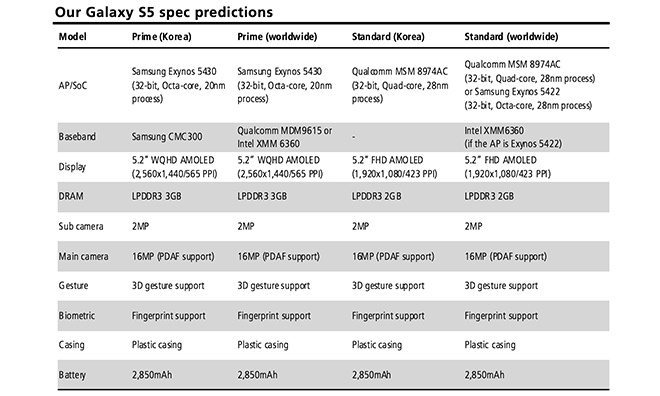 The Samsung Galaxy S5 is a widely anticipated device and the closer we get to a possible March release the more we are hearing about the device via leaks. Now KGI Securities has come up with a Galaxy S5 specs chart with its predictions for the standard Galaxy S5 and also a Galaxy S5 prime version.
We've already detailed many of the rumoured specs and mentioned the possibility of two versions of the handset with different builds, one in plastic and the other in aluminium. However, although standard and prime versions are detailed by KGI, they both have plastic builds.
Another interesting aspect here is that KGI analyst Ming-Chi Kuo expects the Galaxy S5 to feature a fingerprint sensor to keep up with other top-end devices that use a fingerprint scanner such as the iPhone 5S. The image that you can see below shows KGI's specs and feature predictions for the Galaxy S5.
As you can see the chart is split into four sections with one column showing the Galaxy S5 prime version for Korea and another the S5 prime worldwide model. The other two columns are for the Galaxy S5 standard version for Korean and S5 worldwide standard version.
Depending on model the Galaxy S5 is expected to have a 32-bit processor of either the Qualcomm Snapdragon quad-core variety or Exynos octa-core. The prime version is listed with a 5.2-inch display with resolution of 2560 x 1440 (565 ppi) while the standard version has Full HD display resolution of 1920 x 1080 (423 ppi).
All models feature the same 2850 mAh battery size, a 16-megapixel rear camera and 2-megapixel front-facing camera, and 3D gesture support, with the standard variant on 2GB of RAM and the prime models on 3GB of RAM.
It will certainly be interesting to see how closely KGI's expectations tally with the Galaxy S5 when it's made official by Samsung, but it's certainly possible that KGI could have got it spot on. In the meantime it would be thought-provoking to hear your thoughts on Samsung's next flagship Android handset.
Are you pleased to hear that a fingerprint sensor seems likely for the S5? Do the other specs and features shown in KGI's chart tie in with your expectations for the Samsung Galaxy S5? Let us know with your comments.
Source: Apple Insider