Sony Xperia Z1 Compact vs iPhone 5S video review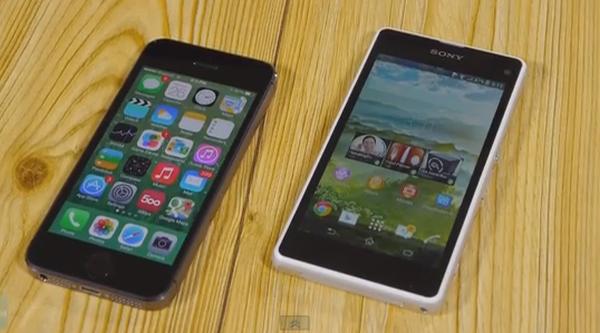 With the amount of new smartphones constantly being made available to consumers it may sometimes be hard to decide which new device to purchase. This choice is not so wide though if you want a smaller sized smartphone with some top end specifications, and today we have a Sony Xperia Z1 Compact vs. iPhone 5S video review.
The recent arrival of the Sony Xperia Z1 Compact provides Android fans a full featured handset in a smaller form factor, and along with the iPhone 5S the device has some high end specifications. We have already provided you with an initial comparison between these two handsets with a full run down of the handsets specifications.
Today we have a longer video having a detailed look at the two handsets and starts by having a look at the builds of the two devices. The Sony has a good build quality but the reviewer feels that the numerous ports and buttons don't give the device the same clean look as the iPhone 5S.
The thinner look and feel of the iPhone 5S is felt to help give the handset a more premium appearance, but the Sony does have the advantage of a microSD card slot, easily accessible SIM card slot, dedicated camera button, and of course the device is water resistant.
Size wise the Sony is slightly wider and thicker than the iPhone 5S but the device is still comfortable to hold in a similar fashion to the iPhone. We get a rundown of the two handsets screen speciation's while seeing both devices in action side by side, and it is felt that the display on the iPhone 5S comes out on top in a number of areas.
The reviewer feels that the software on the Sony Xperia Z1 Compact is harder to get used to but in our opinion if you have used Android before you won't have any problems at all. We get a look at some of the options on the software side of things before we get details of the specs under the hood.
It was felt that the performance of the iPhone 5S was slightly more responsive compared to the Sony Xperia Z1 Compact, and the Safari browser performance was preferred on the iPhone 5S than the Google Chrome on the Sony, but you do have to wonder if there is a little bit of bias going on here.
We now move onto the cameras with some sample images provided and it's not surprising that the Sony brings the better image quality, and the colour reproduction of the Sony was found to be more natural, but it doesn't come out on top in all areas.
Video samples are also provided before we move on to the conclusion and what the reviewer feels is the better handset, but we won't spoil that bit for you.
Which handset do you prefer?