Samsung Galaxy S4 Neo with Android 4.4.2 looks possible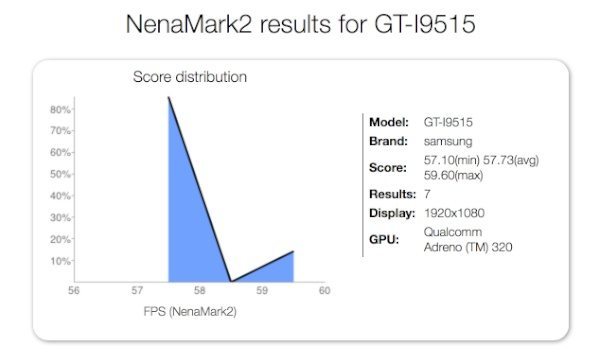 Samsung continues to try to extend the popularity of its devices by coming up with more variants, and has recently announced the Galaxy Note 3 Neo and Galaxy Grand Neo smartphones as well as the Galaxy Tab 3 Lite 7.0 tablet. Now it looks as though a Samsung Galaxy S4 Neo running the Android 4.4.2 update could be possible.
We often see the first hints of a new device leaked from documentation from various sources and now Zauba, an Indian import and export database, has revealed a Samsung device with the model number GT-I9515. The same model has also shown itself on a NenaMark benchmark database.
While there's no confirmation that this is a Galaxy S4 variant, specs suggest that this could well be a 'lite' version of the hugely popular smartphone. Specs shown for the single-SIM GT-I9515 are a 1.9GHz Snapdragon 600 processor, Adreno 320 graphics, and a 5-inch display with resolution of 1920 x 1080.
What's really interesting here is that the device is said to be running Android 4.4.2 KitKat on launch. This is an update that hasn't yet officially arrived for the standard version of the flagship phone, so we hope that Samsung is still focused on pushing out this update for the current S4.
If the GT-I9515 is another version of the Galaxy S4 it's not known whether this will in fact be titled the Galaxy S4 Neo or something else. However, that's certainly a likelihood given the Neo versions that have recently been introduced.
We'd like to hear your thoughts on this. Do you hope that the Samsung GT-I9515 does turn out to be a Galaxy S4 Neo version? Maybe you just wish that Samsung would concentrate on pushing out the Galaxy S4 Android 4.4 update? Let us know with your comments.