Samsung Galaxy S4 vs Sony Xperia Z1 Compact, size matters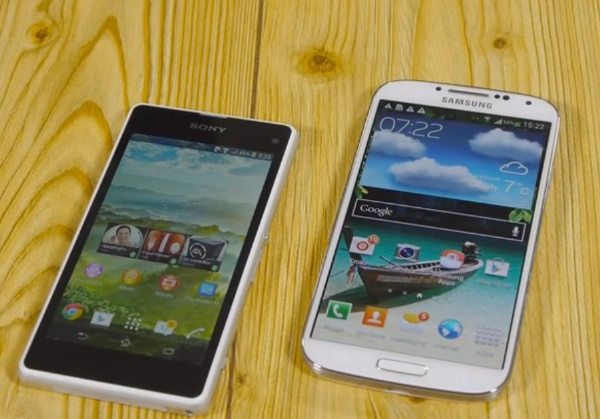 The Samsung Galaxy S4 released last year and is a dominant Android smartphone while the Sony Xperia Z1 Compact has only just arrived on the scene. Although the Z1 Compact is a mini version of the flagship Z1, it still has top-end specs. If you have these two phones on your shortlist then you might be interested in this Samsung Galaxy S4 vs. Sony Xperia Z1 Compact comparison review.
When the Sony Xperia Z1 Compact was formally introduced last month we shared a video with readers showing an initial hands-on look at these two phones with some first impressions, one of which was that they are very close in size in terms of build. Now we're showing a full comparison review from the same source.
The 12-minute YouTube video below this story will give a good idea of what these phones have to offer and how they compare. It aims to see if the Xperia Z1 Compact can offer the premium experience made so popular by the Galaxy S4 and begins with showing the designs of the two phones.
You'll see some good close-ups of the handsets and the build of the phones is described as well as the benefit of the Xperia Z1 Compact of being dust and water-resistant. The displays of the phones are then compared before moving on to the software experience and user interfaces.
More key specs and the performances then get a mention before other aspects such as the camera set-ups, call quality and battery life are also detailed. We don't want to give away the conclusion of this review, as you might prefer to find that out for yourselves when you view it.
Suffice to say that though that much of a decision between the two could depend on your choice of screen size and whether you prefer the 4.3-inch display of the Xperia Z1 Compact and a smaller form factor or the larger 5-inch display of the Galaxy S4.
When you've taken a look at the video we'd like to know which phone you would choose from the Samsung Galaxy S4 and the Sony Xperia Z1 Compact? Is the display size a major factor in this decision?