LG G2 Android 4.4.2 update screenshot shows ART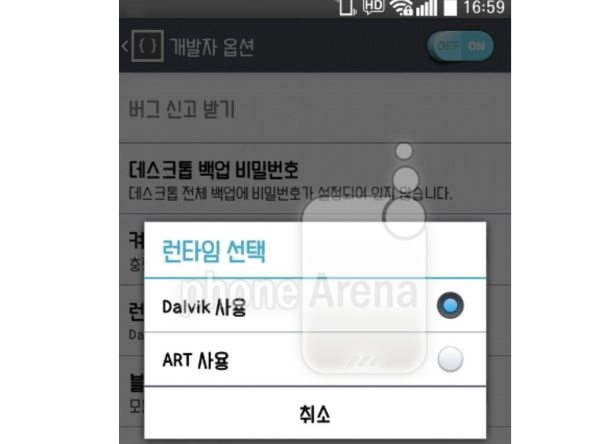 We know that many of our readers are keenly waiting for the LG G2 Android 4.4 KitKat update. There have been several leaks now about when this might be available and now we know that the LG G2 Android 4.4.2 update is rolling out in South Korea. A screenshot of the update also shows ART support.
Starting with more general news about the LG G2 4.4 update we've heard dates of late January from a French carrier, while LG Canada has said the update will arrive for the phone in Q1. We also previously heard that the Android 4.4 LG G2 update had begun rolling out in South Korea on Christmas Eve and would arrive in stages.
An LG G2 owner in Korea has supplied a screenshot from the device showing that it has now received Android 4.4.2 and Android RunTime support is also evident. This latest version of runtime replaces Dalvik and as Phone Arena explains, ART means that "the bytecode is compiled when you install the app," rather than with Dalvik where it's not compiled until the app is opened.
The advantage of this is that with ART the app is virtually ready to go even before it's been opened for the first time. The screenshot also appears to indicate that owners of the LG G2 in Korea will be able to switch between Dalvik and ART.
The LG G2 Android 4.4 KitKat update is certainly on the move then, and latest news on this for the US is that it should hopefully arrive before the first quarter is out, therefore by the end of March. Are you looking forward to receiving the Android 4.4.2 update for your LG G2?