Samsung Galaxy Note 3 vs Boost Max, class shows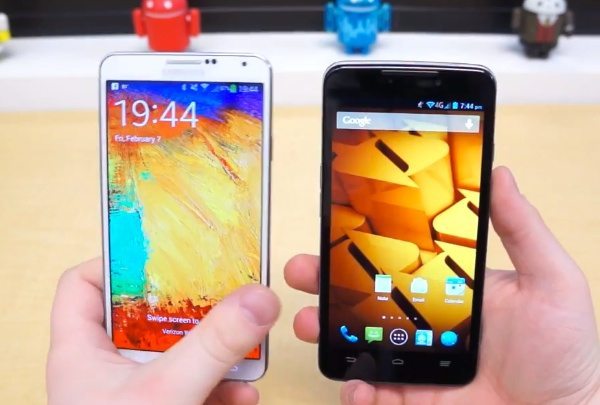 The Samsung Galaxy Note 3 is a much-loved Android phablet that has won huge admiration since it released last year. Recently Boost Mobile introduced its Boost Max phablet at an exceptionally reasonable price, and this could appeal to buyers looking for something more affordable. Today we have a Samsung Galaxy Note 3 vs. Boost Max video look that shows how they compare.
The Galaxy Note 3 has top-notch specs and realistically the Boost Max doesn't match up in this respect. Nevertheless the Boost Max made by ZTE has decent enough specs (see here) and can be purchased for just $299.99 off-contract, and that might be enough for some to choose it over the Note 3.
The 9-minute YouTube video that we've embedded for you to view below this story comes from Pocketnow and gives some useful insight into what these phones offer. It begins with looking at the designs of the two handsets, and while the Boost Max looks sleek it's described as not having the premium feel of the Note 3.
Another thing pointed out is that despite them both having 5.7-inch displays, the Boost Max is noticeably larger than the Note 3. The video moves on to the specs of the devices where it soon becomes apparent that the Galaxy Note 3 wins in this respect.
The displays are then discussed followed by other aspects such as operating systems, user interfaces and features before we move on to the performance of the phones, battery life, and camera capabilities.
The Galaxy Note 3 is clearly the better phone and its class really shows, with the reviewer feeling that even with its more expensive price tag it's better value for money than the Boost Max. However the Boost Max is not a bad phone at all and could be a good choice for those who don't want to pay too much to get a decent-enough bargain smartphone.
Once you've checked out the video below it would be good to hear your thoughts on these two devices. Do you think it's well worth paying the extra cost to get everything the Samsung Galaxy Note 3 has to offer? Maybe you don't want or need a top-notch handset and feel the price of the very affordable Boost Max is enough to make this the right choice for you?