Sony Xperia Z1 vs Z1 Compact, no disappointment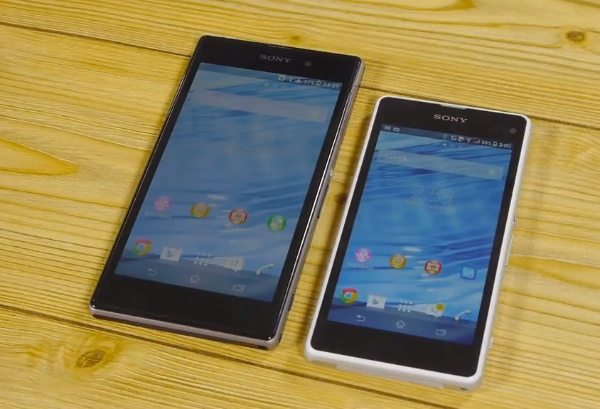 When the Sony Xperia Z1 released in September last year many people were blown over by the new flagship device that has a sleek design as well as top-flight specs. This year Sony has introduced the mini version called the Sony Xperia Z1 Compact. Today we have a Sony Xperia Z1 vs. Z1 Compact comparison on video that will give a good idea of what they have to offer.
Unlike some other mini versions of popular flagship smartphones, the Xperia Z1 Compact is not a dumbed down version as it still retains many excellent specs. Previously we've given a specs comparison of these two phones that you might want to check out for more details, but a video review is a good way of getting some close up looks and insight into these devices.
If you're currently considering either of these two phones your choice may simply come down to the form factors and what size of phone you prefer. The Xperia Z1 measures 144mm x 74mm x 8.5mm, weighs 170g and has a 5-inch display. On the other hand the Z1 Compact measures 127mm x 64.9mm x 9.5mm, weighs 137g and has a 4.3-inch display.
The 10-minute YouTube video that you can view below this story gives a good overview of these two handsets. It begins with checking out the designs and builds of the phones, with both winning admiration, and this also gives you a chance to see the sizes of both compared.
The review continues by giving a hardware tour of the handsets before discussing the displays, user interfaces, processors and performance, cameras (with sample images and video footage) and more. Other aspects such as call quality and battery life are also detailed.
Ultimately, any choice between these two phones is likely to depend very much on the sizes of the phones and displays. The verdict is that both are great high-end devices and that you're not likely to be disappointed whichever one you pick.
When you've taken a look at the video comparison below we'd be interested to hear which of these two phones you would choose. Would you pick the Xperia Z1 with its larger display or the smaller and more compact Z1 Compact? Let us know with your comments.