Nexus 5 working with Galaxy Gear shown on video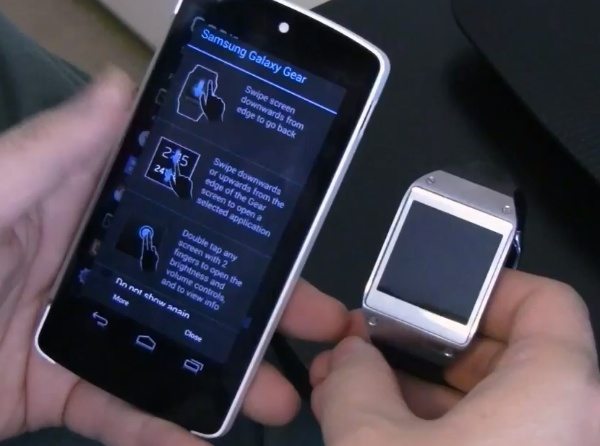 The Google Nexus 5 is one of the most popular Android smartphones out there while the Samsung Galaxy Gear smartwatch is a wearable technology device that has met with a somewhat mixed reception since its release last year. Some of this has been due to its limited compatibility with devices, but now the Nexus 5 working with the Galaxy Gear is shown on video.
When the Samsung Gear watch was first launched there was criticism about its limited functionality, but this has improved significantly following a recent update. Another concern was that the Gear is only compatible with a few select Samsung devices, limiting the market for the device.
However, some people just love to get around these restrictions and hey presto, some ingenious work has led to the Galaxy Gear working with the Nexus 5. Although this was first mentioned a few weeks ago, it appears it was difficult to get this to work at that time, but following updates for two of the files the team at Pocketnow have managed to get this up and running.
While we can never recommend that people tinker with their devices, we do appreciate that many of our readers enjoy this aspect of owning a smartphone. However, it is completely your own responsibility if you choose to try this out for yourselves and something goes wrong. Not everyone will want to attempt this anyway, but the video is still interesting to watch regardless.
The six-minute YouTube video below gives a walkthrough of just how this works and begins with showing some of the files you'll need. It then details the process step-by-step, for example showing how to install the Gear Manager on the Nexus 5. You'll also see how to then connect the Galaxy Gear to the Gear Manager automatically or manually and more.
Finally we see the whole deal in action and the reviewer notes that it works "okay," although this is said with some reservation as not everything works all the time. However, there hasn't been a lot of success with any other Android devices so far, unless you know differently of course?
For full written instructions and download links to the necessary files you can head to Pocketnow, (original source XDA). Once you've taken a look at the video below we'd really like to hear your thoughts on this.
Are you tempted to try to get the Galaxy Gear smart watch working with your Nexus 5? Maybe you have no interest in trying this for yourself, but like us, found it fascinating to see this kind of work-around in action? Drop us a comment to let us know.