Windows Phone 8.1 Action Center notifications leak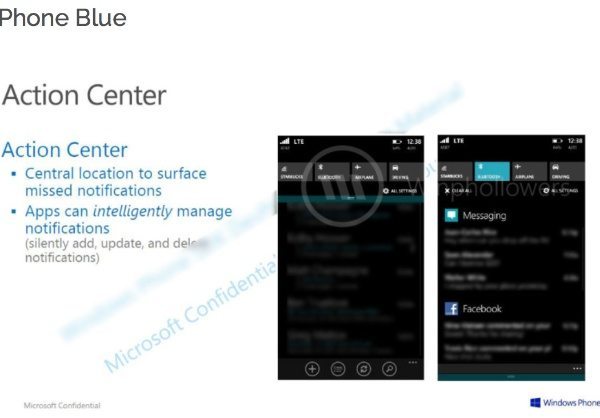 There is plenty of anticipation about the Windows Phone 8.1 update that is on the way, and there have already been several leaks giving ideas about some of the things we should expect. Now a claimed Windows Phone 8.1 Action Center notifications leak shows more.
Mobile World Congress 2014 takes place later this month and it has been rumored that we will see some of the first Windows Phone 8.1 devices unveiled at the event. Everything seems to be on track for a Windows Phone 8.1 release soon with recent news that the operating system has now received Bluetooth certification.
Previously we have seen a screenshot purported to be of the notifications center of Windows Phone 8.1, and now this new leak shows that a notification center under the name of Action Center. The leak comes from a confidential slide deck, which was allegedly internally sent at Microsoft, and it throws up some interesting indications of various functions.
The Action Center will be a central location to access missed notifications and apps will be able to intelligently manage notifications, by silently adding, updating or delaying alerts depending on various factors. Along the top of the image we can see quick access to WiFi, Bluetooth, Driving and Airplane Mode toggles and these will be customizable via All Settings below where there's also a Clear All option.
Although WP 8.1 has long been dubbed 'Blue,' another image appears to confirm that Windows Phone 8.1 Blue is the official name, although we should point out that we have no way of verifying these leaked images.
A precise release date for Windows Phone 8.1 has not been confirmed yet. However, although we may see the first devices that will run it at MWC, it seems likely that the updated OS will be officially introduced at a Microsoft BUILD conference that is taking place in April.
What are your thoughts on these indications of a Windows Phone 8 .1 Action Center? Do you like what you've seen and heard so far about WP 8.1? Let us know by sending your comments.
Source: Winphollowers (Google Translated)