Moto G battery life test over time shows winner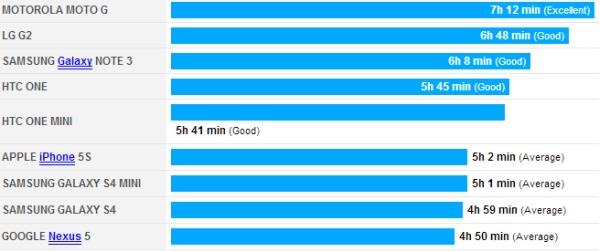 When many consumers look to choose a new smartphone the handsets time in between charges can often get overlooked, but the Motorola Moto G battery life test over time shows a clear winner among a number of high end handsets.
The Motorola Moto G has been well received since it became available and last month we reported of some initial battery life tests carried out by the guys over at Phone Arena, which showed the handset beating a number of handsets that the device goes up against in the smartphone market.
Now this month we have some more results that show the Motorola Moto G beating a number of other handsets that includes the likes of the Samsung Galaxy Note 3. The site has been running some extensive tests with the Moto G returning a score of 7 hours and 12 minutes from its 2,070 mAh battery.
This compares to the Galaxy Note 3 on 6 hours and 8 minutes and the testing is based on real world testing instead of focussing on one single feature such as video playback. The Moto G got the highest score beating the LG G2 into second place on 6 hours and 42 minutes with the HTC One rounding off the top four on 5 hours and 45 minutes.
Similar sized handsets such as the HTC One Mini and Samsung Galaxy S4 Mini returned 5 hours and 41 minutes or 5 hours and 1 minute respectively. This is based on continuous use so those looking to pick up the Motorola Moto G needn't worry about running out of juice before the day is up.
Are you impressed by these results?