Olympic medal count latest made easy with apps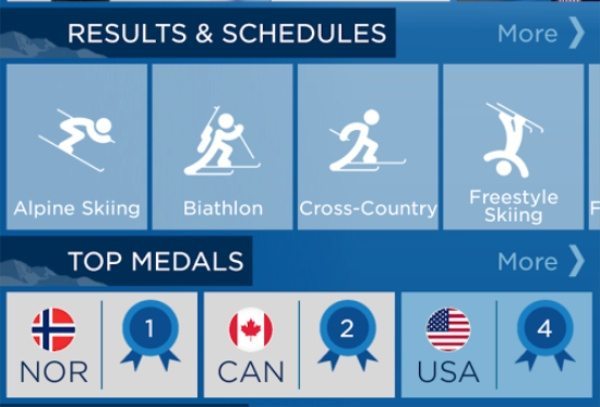 The Winter Olympics 2014 is well under way now from Sochi, Russia, and millions of us are gripped by this great sporting spectacle. If you can't follow every single part of the event it's good to be able to catch up with the leaderboard and the Olympics medal count latest is made easy with apps.
We've already given readers news of the official Sochi Olympics 2014 apps for Android, iOS, Windows Phone, and BlackBerry devices so that you can follow the results. Yesterday we also gave details of the NBC Sports Live Extra app for iOS and Android. However, there are other apps available that will enable you to keep up with the Olympic medal leaderboard.
One of these is the Sochi 2014 Medal Alert from the International Olympic Committee. This is a good resource for keeping up with medal winners as users can select their favorite teams and sports under preferences, and then receive a notification when medals are awarded at the Sochi 2014 Winter Olympic Games.
This is a free app and you can download it for iPhone, iPad and iPod touch at iTunes here. It's compatible for devices running iOS 6.0 or later. If you want the Android version of this app head to Google Play. This one is compatible with devices running Android 2.3 or later.
Another option is the NBC Olympics Highlights and Results app. This app is only available in the US and offers, news, videos and results from Sochi 2014. This gives medal counts, real-time results, TV and online listings and much more. This is also a free app but you should note that watching NBC Olympics videos over a 3G or 4G connection could affect your wireless data plan.
You can find the NBC Olympics Highlights and Results app iOS app at iTunes. It's compatible with iPhone, iPod touch and iPad running iOS 6.0 or later. Alternatively the Android version of the app is at Google Play and compatible with devices running Android 2.3 or later.
Any of these apps will help you to stay in touch with all of the latest medals being awarded at the 2014 Winter Olympics. Are you following events taking place at the Olympics? Let us know if you found these apps helpful.