Sony Xperia Z2 supposedly pictured alongside Z1 and Z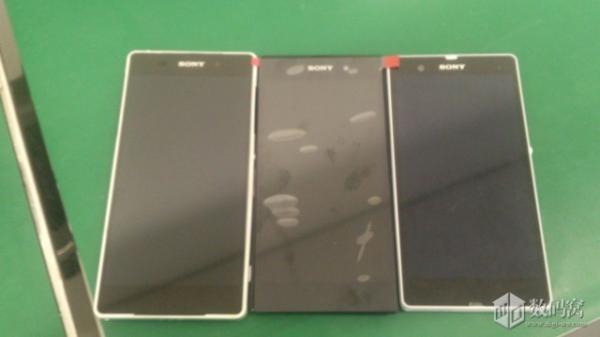 The various smartphone leaks for upcoming handsets from a variety of companies is gathering pace as we get closer to the Mobile World Congress 2014 event that kicks off in ten days time. Sony has been at the centre of a lot of rumours recently and the Sony Xperia Z2 is supposedly pictured alongside the Z1 and Z.
We have been hearing a lot about the Sony Sirius handset that is thought to be the codename for the Xperia Z2, and only yesterday we saw a video that seemed to be demonstrating the handsets operating system.
Now the image that you can see on this page is supposedly of the Xperia Z2 in white on the left of the image as you look at it, compared against the Sony Xperia Z and Z1 handsets. As you can see the device has a slightly larger display than the other two devices which is believed to be around the 5.2-inch mark and with a Full HD resolution.
There seems to be twin stereo front facing speakers at the top and bottom of the display and the device has a familiar button layout as previous models that includes the dedicated camera button. The handset doesn't look that much bigger physically thanks to reduced bezels although it is slightly taller than the Xperia Z1.
The source of the images is suggesting the device will be released in April so hopefully we will get some official news at MWC 2014.
Will you be considering a Sony handset this year?
Source: Xperia Blog.