Oppo Find 7 release with FHD, QHD displays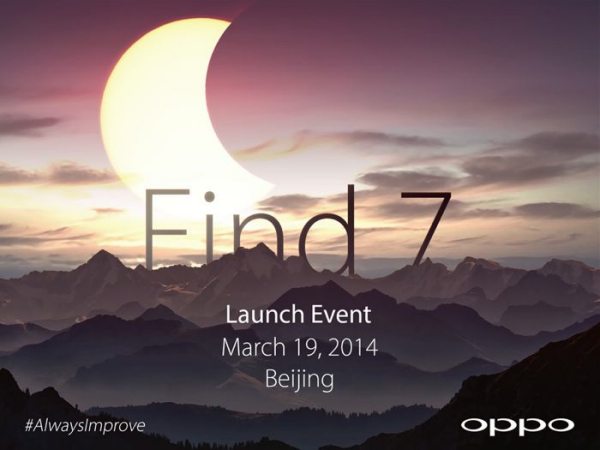 The new Oppo Find 7 design and display were just rumors, but now the latest news reports that this smartphone will be available with two displays, one FHD and the other QHD.
This month we already reported speculated launch dates, an image showing the numbers 708979134102 was broken down in reverse says 2014-3-19-798-07, which now we know to be the launch date of March 19, 2014, the numbers 798 is the area of Beijing and we are guessing the 7 is going to be the time the event starts.
If you look at the photo below the above all makes sense and the rumor has been laid to rest.
GSM Arena reports the Oppo Find 7 will release with two display options, the first being with a QHD resolution of 2560 a 1600, and the other with a FHD resolution of 1920 x 1080 pixels – Both options will have a 5.5-inch screen size.
The Oppo Find 7 is apparently going to feature 3GB of RAM, quad core Snapdragon 800 processor, 5-megapixel front camera, 13MP rear camera and 16GB of built in storage.
Stay with Phones Review because on March 19th we will reveal all the latest news on the Oppo Find 7 smartphone — What else in the way of features would you like to see on the Oppo Find 7?