iOS 7.0.6 beats 7.1 release, download now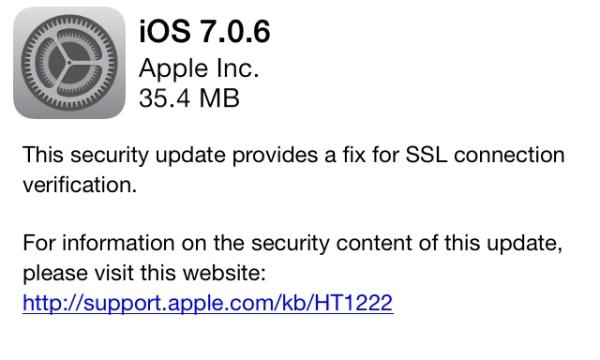 Since the release of the iPhone 5S and iPhone 5C last year many users of the platform have had issues with the iOS 7 operating system. The company is currently hard at work with developers for a new version but in the meantime have been providing incremental updates, and now iOS 7.0.6 beats the iOS 7.1 release and is available to download now.
It was less than a month ago that Apple released iOS 7.0.5 to end users and today the company has now provided iOS 7.0.6 for immediate download. Users can get access to the new firmware by going to the Software Update option via Settings on a compatible iPhone, iPad, and iPod Touch.
Or you can download and install the new software by connecting your device to a Mac or PC and opening up iTunes. The minor update for the iOS platform has a fix for SSL connection and has a build number of 11b651 and on an iPhone 5 is 35.4MB in size.
We heard earlier this month that there wasn't thought to be any more iOS 7.1 betas due to be released to developers, and as far back as December the public release of iOS 7.1 was tipped for release in March.
Have you downloaded the update yet?
Source: MacRumors.