Official Nexus 5 case is subtly improved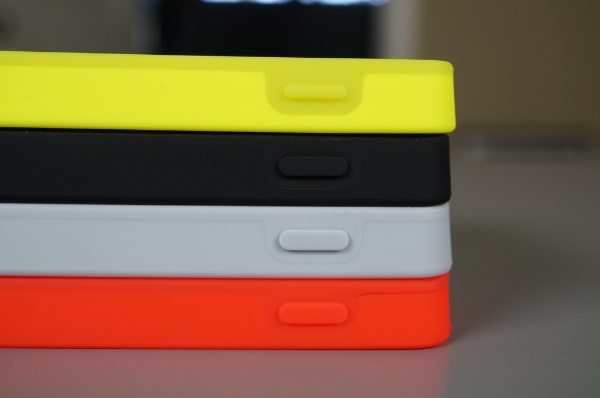 The Google Nexus 5 smartphone is every bit as popular as we anticipated it would be, but an official accessory for the device wasn't quite as good as it should have been. If you're among the many who previously purchased the Nexus 5 official bumper case you may have noticed difficulties with pressing the power/lock or volume buttons with the case on. However, Google has done the right thing and improved the bumper case so that it's now a much better accessory.
The Nexus 5 Bumper Case comes in various color options but previously some noted that the buttons were poorly positioned or too thin, meaning users had to be very firm when trying to use the controls. Without any fanfare whatsoever the case has been subtly changed, and this was brought to the attention of Droid-Life by a reader.
This person noticed that his wife had never complained about using the device with the bumper case on, while he was becoming increasingly annoyed with his own Nexus 5 bumper case. On closer inspection he noticed very slight differences in her case to his own and Droid-Life investigated this further by ordering more of the bumper cases from Google Play.
It was found that the case was definitely slightly altered as wider buttons had been added. The image shown here is of the new power button on black, grey and red cases with the yellow case being of the older variety. This news should make the official bumper case a much more appealing proposition, as some buyers may have been put off by earlier reviews of the accessory.
One consideration though is that for now at least, it doesn't look like the improved case is available for all color options. Droid-Life ordered the case in four different colors but the yellow one was still of the skinnier button variety. Does the news of the new improved Nexus 5 Bumper Case make you more inclined to order one? Maybe you're more attracted to the upcoming Nexus 5 Mugen Battery Case?
Source: Google Play Store Via: Droid Life