iPad mini Retina vs Galaxy Tab Pro 8.4 in close match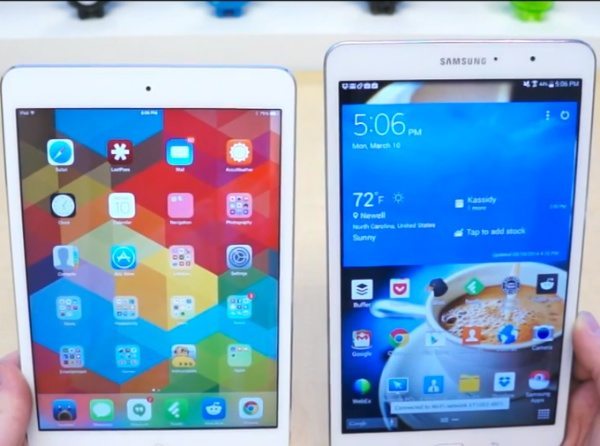 There is a vast array of smaller tablet devices available now and one of the most popular is the iPad mini with Retina display, otherwise known as the iPad mini 2. Competition is expanding all the time though and Samsung recently announced its Galaxy Tab Pro 8.4. Today we have a video comparison of the iPad mini Retina vs. Samsung Galaxy Tab Pro 8.4.
We've already given readers a straightforward specs comparison of the iPad mini 2 and Tab Pro 8.4, but the video below expands further on this and gives an opportunity to get a close up look at the two tablets alongside each other. The YouTube video comes from the team at Pocketnow and begins by looking at the design and build of the two devices.
It continues by running through some of the specs before detailing the impressive displays of the tablets, software experience, performance, battery life, camera capabilities, and more. Ultimately trying to choose between these two tablets could be very difficult as they are very closely matched, and it may simply come down to your choice of operating platform and personal preference of design.
When you've checked out the video below we'd be interested to hear your verdicts on these two tablets. Would you choose the Apple iPad mini 2 or will your winner be the Samsung Galaxy Tab Pro 8.4? Let us know by sending your comments. You might also want to check out a previous comparison of the Tab Pro 8.4 vs. Nexus 7.