Oppo Find 7 vs Samsung Galaxy Note 3, quick peek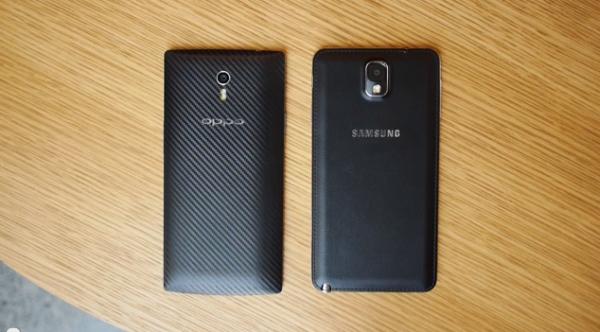 Samsung has had more competition on its hands in the phablet smartphone sector over the last year or so, which is increasing by the day. We now have an early Oppo Find 7 vs. Samsung Galaxy Note 3 video comparison giving a quick peek.
The Oppo Find 7 was announced earlier today with availability and pricing details with the handset coming in two versions, while the Galaxy Note 3 has been with us a few months with the Galaxy Note 4 due for release later this year.
Below this page is a video from the Android Authority that is just over 6 minutes long and begins by giving us a look at the two different designs on offer. The Premium version of the Oppo Find 7 comes with a carbon fibre rear cover that certainly provides a premium feel to the handset, while the Note 3 has the faux leather back.
The front of the Find 7 has no physical buttons or logos spoiling that lovely QHD display, while the handset is around 1mm taller but narrower than the Note 3, although the Galaxy phone is a 1mm thinner.
This video continues by looking at the QHD display but it has to be remembered the competition is set to increase soon as the LG G3 is rumoured to release in June with a 5.5-inch QHD display.
Do you like the look of the Oppo Find 7?