Samsung Galaxy S5 water resistant warning after problems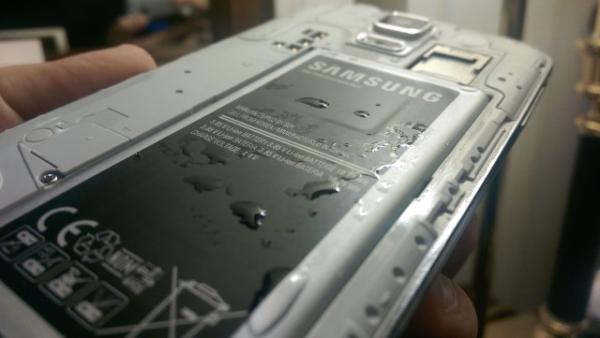 One of the big selling points of the Samsung Galaxy S5 is the fact it has an IP67 rating that is now becoming the norm for new flagship smartphones following Sony's lead last year. Now though the Galaxy S5 comes with a water resistant warning following problems.
The Internet and YouTube is awash with various tests of the Galaxy S5 while submerged in water, but it seems just like last year with the Galaxy S4 Active the device isn't as water resistant as we are led to believe.
It has to be remembered that the Galaxy S5 isn't exactly waterproof, as any electrician will know IP ratings mean a lot of different things, and the S5 has an IP67 rating. This should mean though that the smartphone should survive submersion of up to 1 metre in water for up to 30 minutes.
Now the guys over at Phandroid have been testing the water resistant capabilities of the Galaxy S5 only to find the device suffering from damage. Despite making sure everything was closed correctly water has managed to get inside the device and damage the camera.
As you can see water manage to get onto the battery and after drying it off and restarting the camera some cloudiness reappeared on the camera lens. Of course it is going to be hard proving to Samsung that everything was followed as it should be regarding preventing water entering the device.
Are you surprised by this Galaxy S5 seemingly failing its IP67 rating?