Samsung Galaxy S5 vs Nokia Lumia Icon, versatility or polish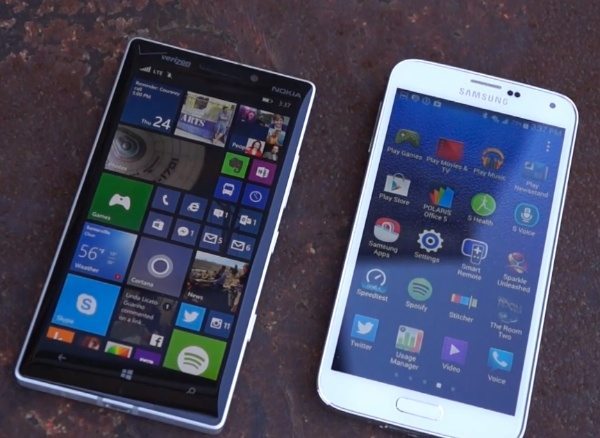 The Nokia Lumia Icon is a Windows Phone handset that released in February while the Samsung Galaxy S5 has just hit the shelves and is an Android smartphone. On the face of it because of the different operating systems these don't seem like natural competition, but in fact both are available at similar prices on Verizon, the largest carrier in the US. Today we have a look at the Samsung Galaxy S5 vs. Nokia Lumia Icon.
We previously showed a comparison of the Lumia Icon against the Galaxy S4, but now the Galaxy S5 has been released it makes sense to take this to the next level. Both of these handsets have plenty of top-flight specs to appeal to potential buyers, and the video comparison we're sharing today might help you to decide between them if you have an open mind regarding operating systems.
The YouTube video that we have embedded for your viewing pleasure below this article comes from the team at Pocketnow and is an excellent look at the two devices, showing what they have to offer and how they stand up against each other. Before we begin it's worth noting that the Lumia Icon is exclusive to Verizon in the US, but is in fact very similar functionally to the Lumia 930 if you're not in the US.
The review begins by looking at some of the key specs and advantages of each, detailing, processors, batteries, displays and more. It also notes that the Galaxy S5 has the added benefit of being dustproof and water-resistant. The comparison goes on to look at factors such as the build and design of the handsets, camera capabilities with image and video footage samples (see recent news on camera issue here), software and much more.
In the wrap-up it's noted that both phones are at the top of the tree for their respective platforms but that there are plenty of differences between them. On paper the Galaxy S5 looks to be the clear winner but the Lumia Icon really excels in the areas that it's particularly good at, so it could be a case of whether you want more versatility or more polish.
After checking out the video underneath, do let us know which you would choose. Will it be the Samsung Galaxy S5 or the Nokia Lumia Icon?