Samsung Galaxy S4 vs Nokia Lumia Icon comparison review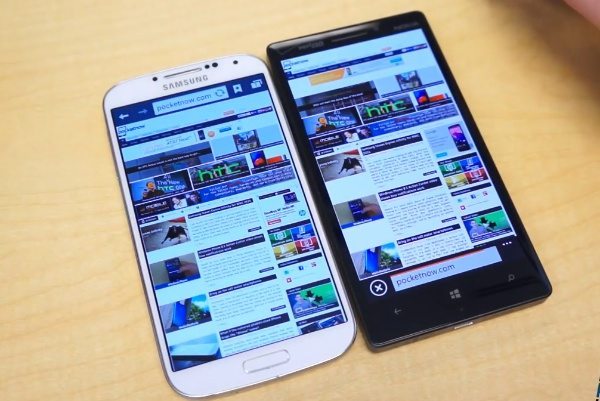 The Nokia Lumia Icon smartphone was recently announced and released for Verizon and has already received a fair amount of admiration. Meanwhile the Samsung Galaxy S4 is a dominant Android smartphone that buyers might also be considering. Today we have a video review to show readers of the Samsung Galaxy S4 vs. Nokia Lumia Icon.
The Samsung Galaxy S4 released in the first half of last year and is Samsung's flagship smartphone. It's available in many worldwide regions from a huge variety of carriers. On the other hand the Lumia Icon (aka Lumia 929) is exclusive for Verizon US, although we recently heard rumors that a global version of the phone is on the way, dubbed the Nokia Lumia 930.
Both of these phones have some top-notch specs including quad-core processors (some models of S4 have octa-core), Full HD displays, impressive camera set-ups, and 2GB of RAM. One of the major differences though, is that the Samsung Galaxy S4 runs Android (Android 4.4.2 is slowly rolling out), while the Nokia Lumia Icon runs Windows Phone Black.
The 9-minute YouTube video that we have embedded for you below this story comes from the team at Pocketnow and gives a really good idea of how these two phones compare. The Galaxy S4 shown in this review is the CDMA model for Verizon and the video begins with a run through of the key specs of each handset.
It proceeds with showing the displays alongside each other and then moves on to the design and builds of the phones with dimensions and weights. This shows just how different these phones look against each other, with the Lumia Icon said to have the more premium feel, although it is both heavier and thicker.
The comparison review goes on to discuss the software experiences offered, with details of features and apps. You'll also get an idea of battery life, data speeds, benchmarks, camera capabilities and more.
In conclusion one of these phones is felt to have a more pleasing design and is best for those who want superior camera quality, while the other offers the more complete experience. We won't give away which is which, as you might want to see for yourself in the video below, but ultimately both have a huge amount to offer.
It's worth pointing out that while the Nokia Lumia Icon is a brand new device, the Samsung Galaxy S4 is due to be replaced soon by the upcoming Galaxy S5, which could release as early as March or April. Bearing this in mind we'd be interested to hear what you think about these two phones.
Are you likely to opt for the Samsung Galaxy S4 or is the Nokia Lumia Icon more appealing to you? Maybe you're prepared to wait and see what the Samsung Galaxy S5 has to offer? Let us know by sending us your comments.