iPhone 6 5.7-inch Goliath in 1080p video showing new features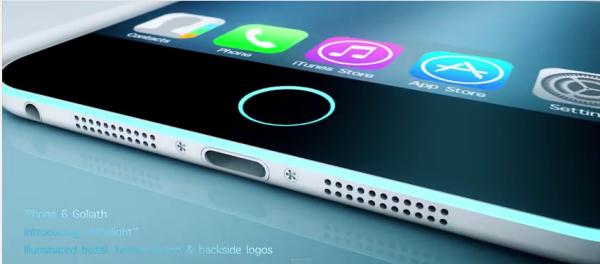 The anticipation for the next iPhone release from Apple is growing by the day and we are also seeing a number of designs for the handset, and today we have a 1080p video that is showing an iPhone 6 5.7-inch Goliath and its new cool features.
We have seen a number of concept ideas in recent weeks for the iPhone 6, and today's one is another from ConceptsiPhone, who recently provided us with another 5.7-inch iPhone 6 design. Today we have a device that is called the iPhone 6 Goliath which has a new feature called Nitelight, which as you can see has an illuminated home button, bezels, and logos.
There have been some recent rumours surrounding the camera on the iPhone 6, but this design has a new feature called Eyes, which is basically a 3D stereo camera that has a 3x optical zoom. Other features of this design include a 5.7-inch QHD display with the Apple A8 processor under the hood, and up to 256GB internal storage.
Check out the video and tell us if you would like to see some of these features in a future iPhone model.