Android 4.4 KitKat updates gathering pace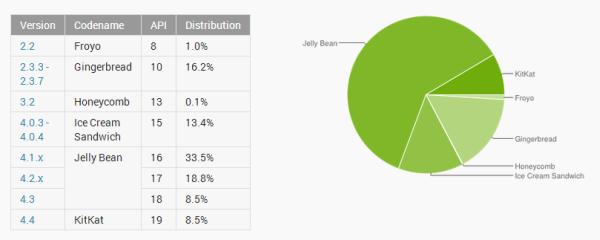 One criticism that is often levelled at the Android ecosystem is the fact that there are so many versions of the operating system still in use, but the Android 4.4 KitKat updates are finally gathering pace.
Google has updated the information it provides on a regular basis about the status of the various versions of the Android OS that are still in use. The latest figures are showing that Android 4.4 KitKat has now grown to 8.5%, which comes from data gathered over a 7 day period ending on May 1st.
This comes after we recently heard how the Galaxy S3 had begun receiving Android 4.4.2 KitKat, and the same firmware update has been spreading to more regions for the Samsung Galaxy Note 2. These figures will have been helped though with the release of new flagship handset such as the Galaxy S5 and HTC One M8.
The various versions of Android Jelly Bean still account for the biggest percentage of the operating system at 60.8%, while following on behind is Android 2.3 Gingerbread at 16.2%. Ice Cream Sandwich now sits at 13.4% with Android Froyo no sitting at 1%.
Which version of Android are you currently using?
Source: Google.