Nokia X vs Nokia XL showdown for India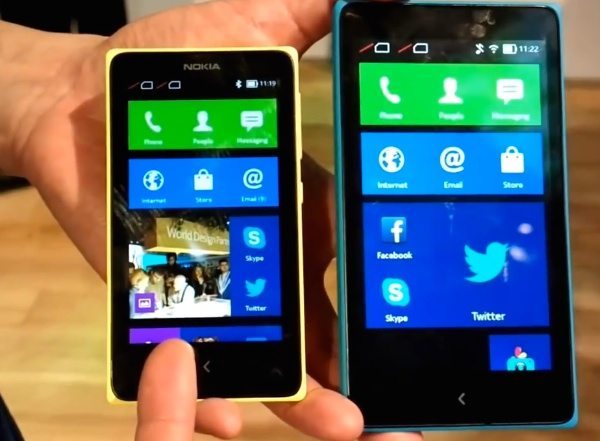 The Nokia X, X+ and XL were all introduced in February and attracted plenty of interest, as instead of running the Windows Phone OS they run a special version of Android. The Nokia X smartphone became available in some regions almost immediately and the Nokia XL release is now beginning to roll out. Today we're looking at the Nokia X vs. Nokia XL in a showdown for India.
We've already written many articles on the Nokia X, which you can see here, and just recently we've shown an initial video look at the Nokia XL. Yesterday it was also reported that Nokia XL availability was beginning for IMEA and APAC regions and Nokia India states that its availability is coming very soon. We'll outline the key specs of each of these dual SIM devices so that you can see how they compare.
Processors
Both devices run a 1GHz Snapdragon S4 Play dual-core processor with Adreno 203 graphics.
Display
This is a major difference between these two phones as the Nokia X has a 4-inch IPS LCD display with resolution of 800 x 480 and 233 ppi while the XL has a 5-inch IPS LCD display with resolution of 800 x 480 and 187 ppi.
RAM and Storage
This is another area where there is a difference as the Nokia X has 512MB of RAM and 4GB of internal storage, expandable via microSD to 32GB. On the other hand the Nokia XL has 768MB of RAM and 4GB of internal storage, also expandable to 32GB.
Camera set-up
The Nokia X has a 3.15-megapixel rear camera with 480p video capture but doesn't have a secondary camera. The Nokia XL has a 5-megapixel rear camera with autofocus and LED flash and 480p video capture, as well as a 2-megapixel front-facing unit.
Battery
There's a 1500 mAh battery for the Nokia X and a 2000 mAh battery for the Nokia XL.
Connectivity
Both handsets have 3G support, Wi-Fi 802.11 b/g/n, Bluetooth 3.0, GPRS, EDGE and microUSB 2.0.
Operating System
Both phones run a version of Android 4.1.2 Jelly Bean with the Nokia X 1.0 UI.
Dimensions and Weight
The Nokia X measures 115.5mm x 63mm x 10.4mm and weighs 128.7g. The XL measures 141.4mm x 77.7mm x 10.9mm and weighs 190g.
Price
Both are affordable handsets and when the Nokia X launched for India the price was Rs. 8,599. However, it's worth remembering that the phone can be found at various retailers now for quite a bit less. The price for the Nokia XL for India has not yet been confirmed but yesterday Nokia announced that the phone would cost €109 before local taxes and subsidies. That price equates to around Rs. 9,100.
As far as specs are concerned the Nokia XL is clearly the superior of the two smartphones with a larger display, improved camera capabilities, more RAM and a higher capacity battery. However, the bigger display leads to a larger form factor and the XL is quite a big heftier because of this.
On the face of it, if you don't mind the larger size then the Nokia XL looks to be a better bet, but only you can decide if it's worth paying the extra money for. Will you buy the Nokia X or will you purchase the Nokia XL when it hits the shelves