HTC One M8 Prime design could work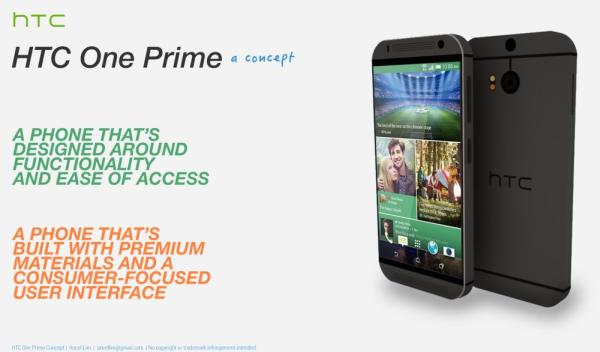 It has been over a month now since the HTC One M8 became available and the handset has been pretty much well received so far, but as always in the smartphone world speculation soon turns to what could be coming next. Today we have a HTC One Prime design that could work.
At the end of April we first heard rumours of a HTC One M8 Prime handset from a reliable source, and a week later we also got to hear some supposed specifications for the handset. Now the image that you can see on this page is a concept phone design of the rumoured handset by Ancel Lim.
The designer said that this device is designed to concentrate around functionality and ease of access, but as the handsets title suggests it will be built with premium materials such as aluminium and glass.
Specs for the HTC One Prime are rumoured to feature a 5.2-inch 2K display powered by the quad core Qualcomm Snapdragon 805 processor with 3GB of RAM, but of course until we hear something official we won't know for sure.
Do you like this design?
Source: Concept Phones.