WhatsApp Windows Phone app disappears for now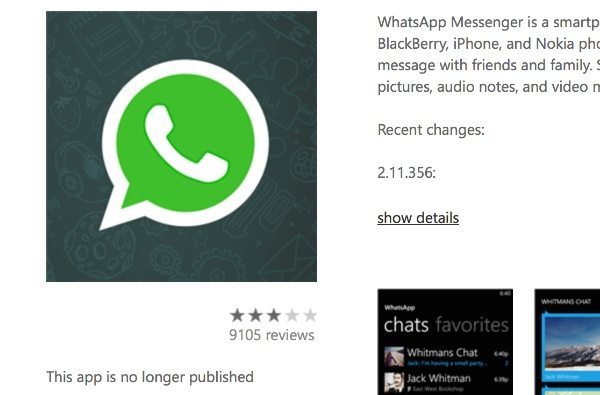 Many readers will be users of WhatsApp, the massively popular messaging app available across various platforms. However, there's a rather interesting piece of news, as the WhatsApp Windows Phone app has disappeared for now. This seems to be because of problems with the app for Windows Phone 8.1, although it was working fine with Windows Phone 8 devices.
Currently if users look for the app on devices running either Windows Phone 8 or 8.1 they are greeted with a message saying, "We couldn't find a match. Try a different spelling or search term." Checking out the app using the Windows Phone Store website finds the listing for WhatsApp but it's not available to download, with a message merely saying, "This app is no longer published."
What seems likely is that because Windows Phone 8.1 is about to arrive, the app has been pulled to avoid giving users an unsatisfactory experience. However, this is likely to cause consternation among Windows Phone users and we hope it won't be too much longer until the app is re-instated, presumably with a large update. What are your thoughts on the vanishing WhatsApp app for Windows Phone?
Source: WP Central
Via: Phone Arena