Moto E back covers now available in India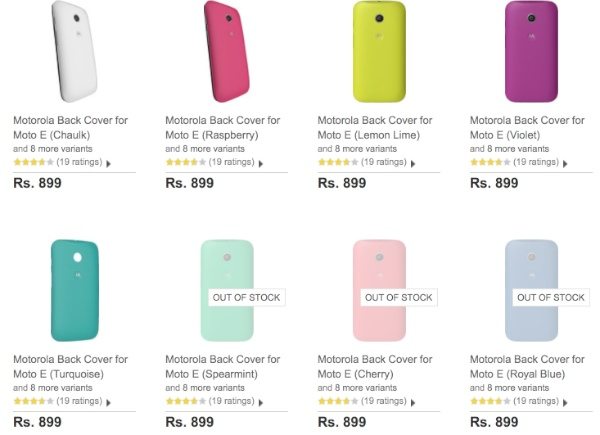 The Motorola Moto E smartphone recently launched in India and as an affordable Android device it has been in huge demand. We're happy to tell you that the Moto E back covers are also now available for India and we have some further details ahead.
The Moto E is attracting plenty of interest and just in the last couple of days we've shared a camera review of the phone and also shown an interesting speed test between the Moto phone and Samsung Galaxy S5. The attractively-colored back covers for the Moto E are now available via Flipkart (source below) and they are priced at Rs. 899.
There are 9 color options available for the back covers and they are Chaulk, Cherry, Lemon Lime, Licorice, Raspberry, Royal Blue, Spearmint, Turquoise and Violet. However, some are currently listed as being out of stock.
A nice incentive for those who purchased the phone on launch day is that they can get a 50% discount on a cover between today and May 31. Those buyers should receive a confirmation mail about the offer. Are you about to buy a Moto E back cover?
Source: Flipkart
Via: Fone Arena