Samsung Galaxy K Zoom price, date, pre-orders for UK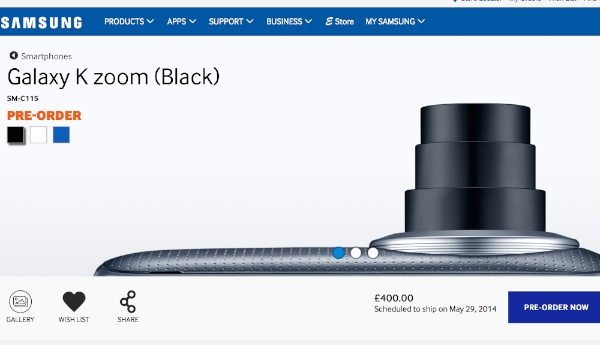 The Samsung Galaxy K Zoom is the camera-centric version of the Samsung Galaxy S5 and a successor to last year's Samsung Galaxy S4 Zoom. It was made official at the end of April although Samsung didn't announce specific pricing at that time. Now the Samsung Galaxy K Zoom price and availability date have been confirmed for the UK and pre-orders are now open.
Earlier this month we saw a price indicator for the device for other regions from Samsung Germany who gave it a price tag of €519. That equates to around £430 for the UK, which wasn't too far out as the device is now available to pre-order from Samsung (head to the source below) for exactly £400.
The phone is scheduled to begin shipping on May 29th so there's not much longer to wait, and you can choose from black, blue or white colour options. SamMobile passes on news of a promo code that will entitle you to a 10% discount if you order the Galaxy K Zoom, though the price is likely to be lower when it becomes available from other retailers. The code is NPR-14G-QKY-WSZ.
If you're thinking of buying the Samsung Galaxy K Zoom you might be interested in a recent comparison of the Galaxy K Zoom and S4 Zoom. Do you think you'll be placing an order for the Samsung Galaxy K Zoom?
Source: Samsung UK
Via: SamMobile