Samsung Android 4.4.3 update status revealed, Galaxy S3 MIA
While there are still a lot of Samsung devices waiting to see the update to Android KitKat a Samsung Android 4.4.3 update status has been revealed while the GT-I9300 Galaxy S3 4.4 update is MIA.
It seems as if Samsung is already working on Android 4.4.3 KitKat even though the software hasn't yet been released for Nexus devices, but the software was recently seen on a Samsung device. Now the guys of at the reliable SamMobile have been provided with some information by an insider.
Samsung seems to be testing Android 4.4.3 on both variants of the Galaxy S5 as well as the GT-I9506A version of the Galaxy S4, but the firmware is only being integrated with the company's own software so a release is likely to be a while yet.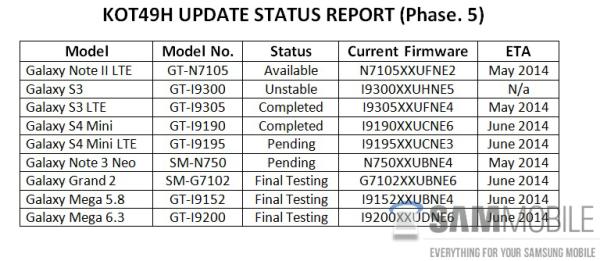 The Galaxy S4 LTE-A is still awaiting the update to Android 4.4.2 but there is a train of thought it may now jump straight to 4.4.3, and there is also a status update for older hardware and Android 4.4.2.
Of course the international Galaxy S3 is still listed as unstable but recently there have been some hopes raised it may still see an official KitKat update, although there are already custom ROMs available.
The Samsung Galaxy Grand 2, Galaxy Mega 5.8, and Mega 6.3 are still under final testing for the Android KitKat update so should see the rollouts begin next month, but could skip directly to Android 4.4.3.
Do you own one of these handsets still awaiting the KitKat update?