HTC One M8 red version for Verizon almost here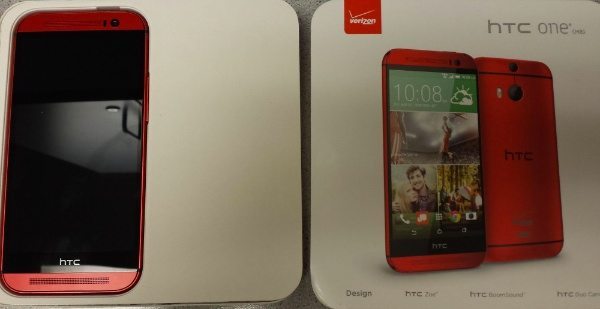 The HTC One M8 is proving to be a popular smartphone, befitting its high-end specs and design. The phone is already available on US carrier Verizon, but back in April we saw a leaked press render of the phone in a red color with Verizon branding. Now the HTC One M8 red version for Verizon is almost here.
Today we have a new image of the red HTC One M8 in Verizon packaging out in the wild, and leaked information suggests that it will arrive for Big Red on June 5, just two more days away. As you can see, the shiny red hue is pretty attractive and so there are likely to be plenty of takers.
Specs remain the same as for other colors of the device, with a Snapdragon 801 quad-core processor, 5-inch Full HD display and 4-megapixel Duo Camera of the UltraPixel variety. You can check out much more on the phone at our previous articles on it here. Have you been waiting for the HTC One M8 in red to be offered by Big Red?
Source: Droid Life