Samsung Galaxy Note 3 vs Galaxy Note 3 Neo comparison look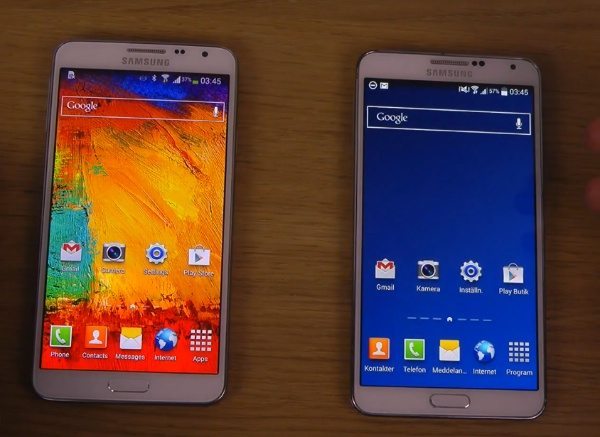 The Samsung Galaxy Note 3 released last year while the Samsung Galaxy Note 3 Neo arrived on the market in February this year as a more affordable version of the flagship phablet. As the Note 3 Neo has lesser specs it is the cheaper model of the two, but how do these phones stack up against each other? We're showing a video of the Samsung Galaxy Note 3 vs. Galaxy Note 3 Neo that will give you a good idea of how they compare.
We've already written many articles on both of these phones, which you can check out here and here, one of them being a previous comparison of the two phones focusing purely on the advantages of each. Before we move on to today's comparison video we'll give you an idea of the key specs of each.
The Galaxy Note 3 has a 2.3GHz quad-core processor or 1.9GHz octa-core processor (dependant on region), a 5.7-inch Super AMOLED display with 1920 x 1080 resolution, 3GB of RAM, and internal storage models of 16, 32 or 64GB, all expandable via microSD. It has a 13-megapixel rear camera, 3200 mAh battery, and use of the S Pen stylus. It runs the Android 4.3 Jelly Bean operating system, upgradable to 4.4.2 KitKat, skinned with TouchWiz.
On the other hand the Samsung Galaxy Note 3 Neo specs include a 1.7GHz quad-core CPU or a hexa-core processor with four 1.3GHz cores and dual 1.7GHz cores. It has a 5.5-inch Super AMOLED display with 1280 x 720 resolution, 2GB of RAM, and 16GB of expandable storage. There's an 8-megapixel rear camera, 3100 mAh battery and S Pen stylus, and it runs Android 4.3 Jelly Bean skinned with Samsung's TouchWiz.
Below this article we've embedded a YouTube video showing these two phones, and if you're trying to choose between them this appraisal could help you out. At the beginning the two phones are shown side-by-side and look very similar although the Note 3 Neo is slightly smaller than the Note 3. The video goes on to show some of the differences between them in regards to software experience, performance and more.
This is an interesting look at the two phones and it would be good to hear which you are more likely to opt for, the Samsung Galaxy Note 3 or Note 3 Neo?