LG G3 review offers pros and cons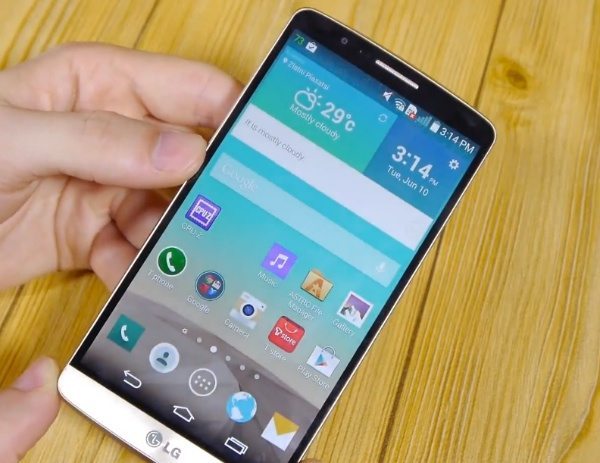 The LG G3 smartphone was recently made official and will soon be making its way into the hands of more buyers as its release spreads across various world regions. This is a premium handset with top-flight specs and a Quad HD display that is attracting plenty of attention, so it's time to take at look at an LG G3 review that offers pros and cons of the device.
We've posted many articles already on the LG G3, which you can check out here, but two you may be particularly interested in are an early hands-on video look and also a video showing in-depth first thoughts and the sizing of the phone. The YouTube video we are sharing today comes from Phone Arena and you can check it out it below this story.
After a brief introduction about the impact the LG G2 made on the market last year and hence the expectations of the LG G3, the review goes to look at the design and exterior of the latest flagship. This is undoubtedly a classy and sleek looking device that should win plenty of admirers, and earns praise from the reviewer.
You'll then see a hardware tour of the device, giving an opportunity to get some close-up looks all around the handset. Next the review moves on to detailing the display, and then the Android 4.4.2 KitKat software experience with the new LG user interface is discussed with aspects such as the new Smart Keyboard.
When the processor specs are discussed there are also details of the two different models of the LG G3, and the review goes on to cover various other factors such as the camera and features (with sample images), call quality, battery life and more. In the wrap-up the phone is described as "remarkable" and "technologically advanced," and the reviewer feels that it ticks most of the boxes required to offer a well-rounded experience.
On the other hand it's also felt that there is room for improvement and the benefits of the Quad HD display are questioned. Finally you'll see a list of pros and cons for the LG G3 along with an overall rating. We don't want to give that away here, as you might prefer to find out when you view the video below. Do you think your next smartphone purchase will be the LG G3?