Galaxy S5 vs LG G3 camera performance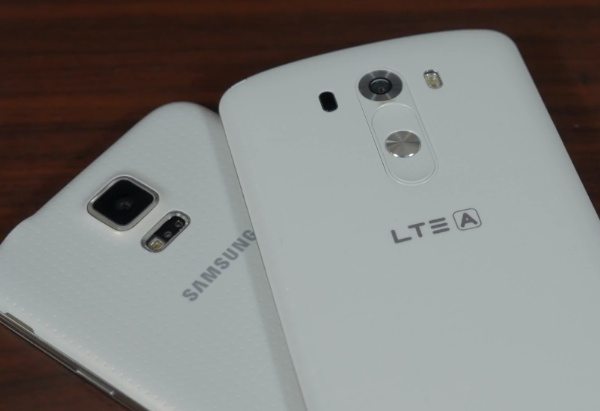 Two recent flagship smartphones that are grabbing the headlines are the Samsung Galaxy S5 and the LG G3. Both have top specs including impressive camera set-ups, and today we have a video to share of the Galaxy S5 vs. LG G3 that concentrates on the cameras and their performances.
The Galaxy S5 is already gathering acclaim for the best smartphone camera, coming top in recent ratings and also in a blind comparison test (which included the G3). It has a 16-megapixel rear camera with autofocus, LED flash, and video capture of 2160p@30fps, 1080p@60fps, or 720p@120fps. It also has a 2-megapixel front-facing camera.
The LG G3 has a 13-megapixel rear camera with phase detection/laser autofocus, dual LED flash, and optical image stabilization and video recording capability of 2160p@30fps or 1080p@60fps. There's also a 2.1-megapixel front-facing camera. Both cameras also have plenty of extra features, modes and settings, with many of these detailed in the YouTube video that we have embedded below that comes from Phone Dog.
The camera review aims to find out which phone has the better camera and starts by looking at the hardware. It proceeds by looking at the image quality and first shows images taken with the Galaxy S5 followed by the LG G3 and then shows these photos alongside each other. The photos used were taken both indoors and outdoors in a variety of different conditions and also using the HDR mode.
You'll then see some video footage taken with each that gives you a good opportunity to see how they compare in this respect. The last part of the video concerns the camera software showing much of what's on offer. Ultimately both of these smartphone cameras have areas where they shine and plenty to recommend them, but we don't want to spoil the final choice of the reviewer, as you can see that for yourselves when you watch the video.
If you want to read much more on the Samsung Galaxy S5 and LG G3 then please head to our many previous articles on these devices here and here. We'd be really interested to hear your thoughts on the camera set-ups of these two phones so after checking out the camera comparison below we'd like to know which one you think does the best job? Is it the Galaxy S5 or the LG G3?