Galaxy S5 vs Amazon Fire, advantages highlighted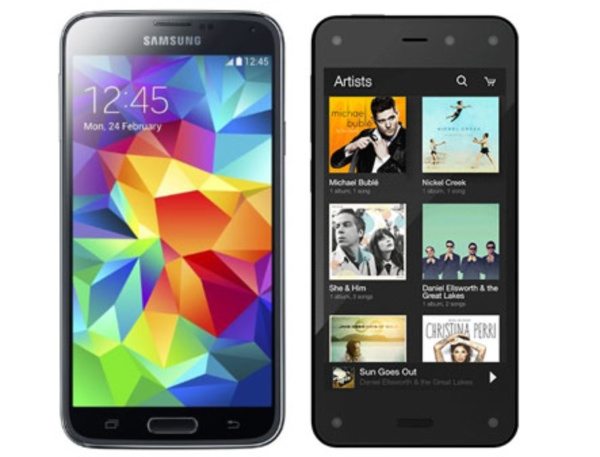 The Samsung Galaxy S5 needs no introduction as it is currently one of the most dominant smartphones in the Android world. After months and even years of rumors we finally saw an Amazon smartphone made official last week. This is the Amazon Fire Phone, which will release next month exclusively for US carrier AT&T. Today we have a video to share on the Galaxy S5 vs. Amazon Fire that highlights their strongest aspects.
You can check out much more on the Samsung Galaxy S5 in our numerous previous articles on it here, including comparisons with other handsets, reviews, and much more. If you want to find out all the details you need on the Amazon Fire check out our launch article on it here, where we gave information on specs, features and price.
The YouTube video that we have embedded below our story today comes from Total Tech War and rather than a long-winded comparison it concentrates purely on the advantages of each phone when against the other. This could be helpful if particular aspects of a new smartphone are particularly important to you. It begins by showing the benefits of the Galaxy S5 and a few of these are its 16-megapixel camera, USB 3.0, water resistance, and a fingerprint scanner.
The next part of the video comparison looks at the advantages of the Amazon Fire over the Galaxy S5. A few of these aspects are optical image stabilization, stereo speakers, 4 tracking cameras, and free unlimited photo storage with Amazon Cloud Drive. Many more advantages for both of these phones are shown than we've included here, and when you've taken a look at the video below we'd be interested to hear your thoughts.
Do you think you could be tempted to purchase the new Amazon Fire Phone rather than the established Samsung Galaxy S5? Perhaps you wish that the Amazon Fire was releasing on more carriers rather than just AT&T? Let us know by dropping us a comment using the box below.