iPhone 6 display component for phablet version leaks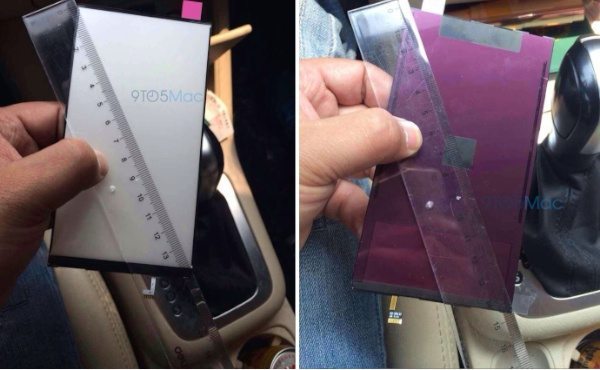 The amount of rumors and leaks about the Apple iPhone 6 are really ramping up now as we get closer to the release, expected in fall. It seems pretty much certain that there will be two different sizes for the next iPhone, one at 4.7-inches and one at 5.5-inches, and now a new image has leaked that purports to be an iPhone 6 display component for the phablet sized version.
We've seen a multitude of leaked images connected to the iPhone 6 already, and back in May we saw an LED backlight panel purported to be for the phone. There have also been plenty of images of dummy iPhone 6 models recently, and over the last few weeks we've also seen photos that are claimed to be of the real deal, although some of these have been disputed.
The latest image that we are showing here today is said to be a display component for the 5.5-inch iPhone 6. You can see that a ruler shows a 14cm diagonal measurement, which equates to a display of around 5.5-inches. The handset is thought to have an aluminium body and both sizes of iPhone 6 are thought to have a similar design.
Previously it was rumored that the larger version of the iPhone 6 might not arrive alongside the 4.7-inch model, but a few days ago we reported on the latest news on this. It's now thought that the iPhone 6 in both 4.7-inch and 5.5-inches will both launch in Q3 alongside the widely rumored Apple iWatch. It has also been claimed that the smallest version will have a standard Gorilla Glass display while the 5.5-inch model will step up to a sapphire glass screen.
Supply chain sources say Apple has ordered 60 million units of the smaller model, but just 10 million of the larger version. However, it's thought that once the technique for making the sapphire screens has been mastered then production of the larger model will step up. We should remember when we're talking about the 'smaller' 4.7-inch version that this is still larger than the iPhone 5S, which has a 4-inch display.
Are you already looking forward to the arrival of the new iPhones for 2014? Are you particularly interested in the larger sized iPhone 6, or are you more likely to opt for the 4.7-inch variety? Let us know with your comments.
Source: 9to5Mac