Sony Xperia Z1, Z Ultra Android 4.4.4 update now rolling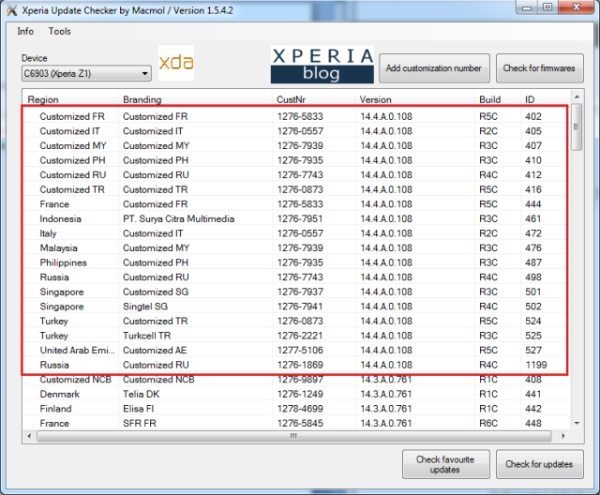 It's always good to be able to bring news of the arrival of operating system updates, and today there's promising news if you have the Sony Xperia Z1 or Sony Xperia Z Ultra. A few days ago we gave some news on the latest Android update on the way to these two devices, and now the Sony Xperia Z1 and Z Ultra Android 4.4.4 update has started to roll out.
When we recently informed readers that Android 4.4.4 had started to be pushed out to the Sony Xperia Z1 Compact in some regions, we also said that the same build had been certified for the Z1 and Z Ultra and that hopefully it would arrive before too much longer. Hey presto, we now hear that Android 4.4.4 is indeed beginning to reach end users with these devices.
This update is firmware build 14.4.A.0.108 and brings Android 4.4.4. It's reported that the Xperia Z1 C6903 and Z Ultra C6833 models have already started to receive the updates in various regions. You can see those listed in the image shown here for the update for the C6903 Z1. Once these updates start to roll out we usually see them spread to further model variants and regions pretty quickly, although times vary depending on country and carrier.
Sony has given the changelog for the update on its official software pages. The update includes improvements for the camera, Google Voice, Music Streaming, Contacts and Google+, and the most recent versions of Sony apps. It also includes performance enhancements, security updates, and bug fixes. Remember if you have the Z1 or Z Ultra you may need to be a little patient when waiting for the update to reach your device.
It would be good to hear from readers who have these phones when they receive the update, so please do send us your comments on this and include your region for reference. Also perhaps you could let us know if everything is going smoothly with the Android 4.4.4 update for your Sony Xperia Z1 or Z Ultra and what you think of the changes?
Source: Sony
Via: Xperia Blog