LG Optimus G Android 4.4 update news, plus more devices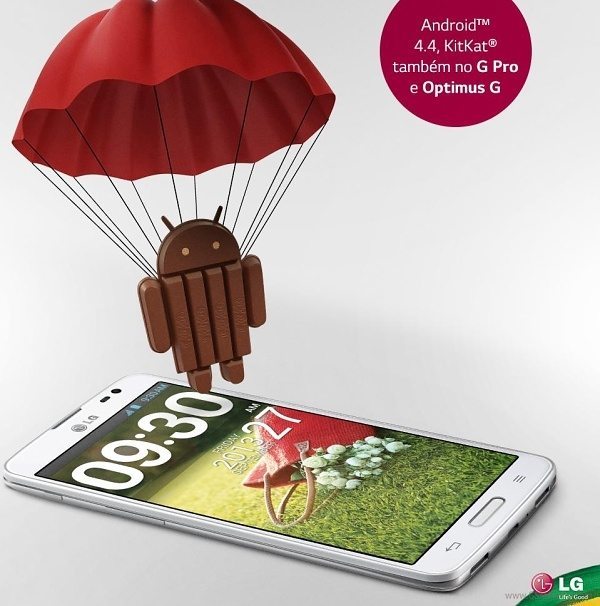 It's always good to be able to bring readers news on operating system updates for their devices, and we've already seen plenty of arrivals of the Android 4.4 KitKat update. If you have the LG Optimus G or another LG device we have some news on the Android 4.4 update.
Back in May we told how this update was underway for the Optimus G in South Korea, indicating a more widespread release before too much longer. Now the official Facebook account of LG Brazil has listed the release of Android 4.4.2 KitKat for the Optimus G in August. Of course the update could still arrive for other regions before then although that is a good indicator that at least it's still on the way.
If you have the Optimus G Pro you may recall that we reported on the arrival of Android 4.4 for this device back in March when it released in South Korea. Following this the update also arrived for owners of the G Pro on AT&T in May. LG Brazil lists this update as scheduled for July, so owners there could receive it at any point from now, as well as other regions where it has not yet become available.
Other devices mentioned by LG Brazil are the LG G Optimus L7 II and the LG G Pro Lite, which are also to receive the KitKat update before the year is out. Sadly if you have the LG Optimus 4X HD or the LG Optimus F5 you're out of luck, as there are no plans to bring Android 4.4 to these devices.
You may also have heard about Android L, the next major upgrade to Google's mobile operating system that is heading for a fall release and is currently in the hands of developers. LG has not stated which devices this will come to yet, but there will be many owners hoping that it appears for their smartphone or tablet.
Do you have the LG Optimus G or one of the other devices that are scheduled to receive the KitKat update? Are you pleased to hear that you LG device will be treated to the update that has already rolled out to the LG G2 and G3?
Source: LG Brazil (Facebook)
Via: GSMArena