Moto G Android 4.4.4 update for GPe arrives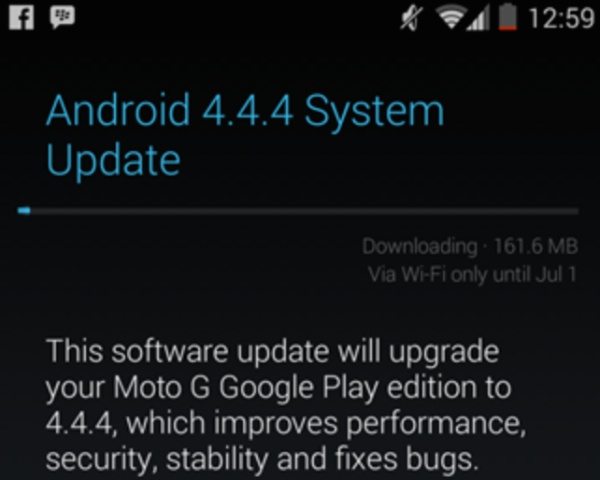 The Motorola Moto G has been a hugely popular smartphone and also released as a Google Play edition. If you've been waiting for an update for this phone you'll be pleased to know that the Moto G Android 4.4.4 update for the GPe has now arrived.
Rather oddly the Moto G GPe was missed out when many other Google Nexus and Google Play edition devices received the Android 4.4.3 update. Android 4.4.3 also rolled out to the standard Moto G, making this omission look even more bizarre.
Therefore it's good to hear that the Moto G GPe is now being treated to Android 4.4.4, even though the majority of other GPe and Nexus devices have already received it. This is a sizeable update at 161MB, not surprising as it's this version of the phones first update since it released early this year running Android 4.4.2 KitKat.
Android 4.4.4 is an incremental update with performance, stability and security improvements as well as bug fixes. This is an over-the-air update that brings the device to build number KOT49H from KTU8P4. If you have a rooted device you'll need to re-root it after the update is installed.
You can find out more at the source link below, including advice for stock users, custom recovery, and download links. Are you pleased to hear that the Android 4.4.4 update is now ready for the Moto G Google Play edition?
Source: Android Police