LG G3 vs Sony Xperia Z2 review offers insight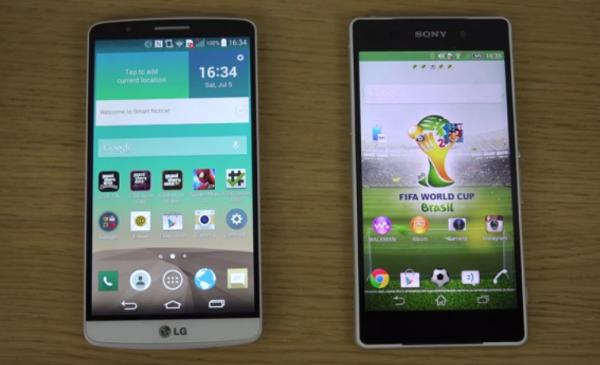 2014 has already brought the Android platform some worthy new flagship smartphones that have gained a lot of interested from mobile users, and today we have a video review of the LG G3 vs. Sony Xperia Z2 that offers some insight.
The LG G3 and Sony Xperia Z2 have both received many plaudits from owners and reviewers alike, and today we have a YouTube video having a look at the two handsets side by side. The two handsets have similar sized bodies although the LG G3 is more rounded, and the LG G3 has a plastic rear cover compared to the glass on the Sony Xperia Z2.
It is mentioned that the LG G3 feels quite premium in the hand despites its plastic cover, and of course there is no physical buttons on the edges of the device thanks to the rear button set up. The Sony Xperia Z2 is looked at for its button layout and even though it has a glass back it doesn't slip around too much, but may be an issue if dropped.
The two displays are discussed with the LG G3 having a 5.5-inch QHD display compared to the 5.2-inch Full HD offering on the Xperia Z2, and when the two devices are looked at next to each other the higher pixel density of the LG G3 is noticed, but only in real life.
After using a QHD display the reviewer mentions that he wouldn't want to go back to 1080p, but the Sony does come with a certain level of waterproofing that the LG doesn't have. The LG G3 in the video is the 32GB version and it is mentioned that the camera app is really fast, and the laser helps provide really crisp images.
The various modes of the camera app are discussed, but the Sony Xperia Z2 also has a high quality camera, and the handsets gaming credentials are also talked about with the processing power of each handset offering a similar experience.
Each of the handsets have their own battery saving modes although the LG G3 has come in for some criticism previously for battery life. Check out the full video and tell us which handset you prefer.