Nokia Lumia 930 vs Samsung Galaxy S5, top choices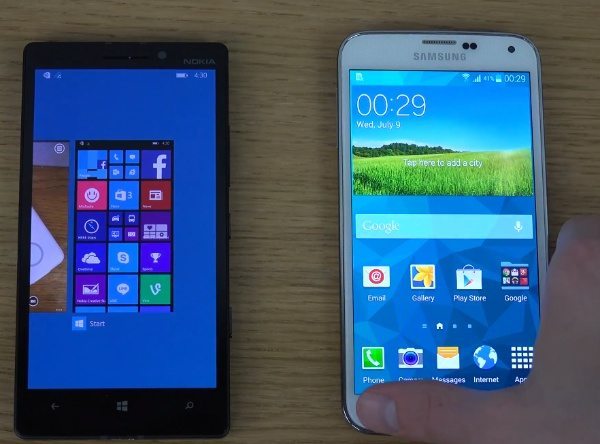 The Nokia Lumia 930 release is now underway to various regions and this device has some top specs and runs Windows Phone 8.1. On the other hand the Samsung Galaxy S5 is a flagship Android smartphone that is one of the most dominant devices on the market. Today we're sharing a Nokia Lumia 930 vs. Samsung Galaxy S5 review that will give you an idea of how these top phones compare.
Previously we've shown another comparison of these two phones although this didn't show the handsets and focused solely on the advantages of each device over the other. We'll run through some of the key specs of each so that you have a general idea of what they have to offer.
The Lumia 930 has a 2.2GHz quad-core processor, 5-inch display with resolution of 1920 x 1080, 2GB of RAM, and 32GB of non-expandable internal storage. It has a 20-megapixel rear camera, a 1.2-megapixel front-facing camera, a 2420 mAh battery, and runs Windows Phone 8.1.
The Galaxy S5 has a 2.5GHz quad-core processor or an octa-core processor (depending on model), a 5.1-inch display with resolution of 1920 x 1080, 2GB of RAM, and 16 or 32GB of internal storage, expandable via microSD to 128GB. It has a 16-megapixel rear camera, 2-megapixel front-facing camera, 2800 mAh battery, and runs the Android 4.4.2 KitKat operating system. It's also dust and water resistant.
If you're a diehard Windows Phone or Android device enthusiast then your decision between the two is likely to be already made. However, if you're open to a device on either platform, the first look YouTube video we've embedded below this article could help you to decide between them. It goes into further detail about specs and features and gives an opportunity to look at both devices in action.
It begins by showing the two phones alongside each other and one thing immediately obvious is that they are similar in overall size. You'll see some good all-round looks at the phones' designs and builds and then other aspects are covered. These include the processors, software experiences, and battery life, and a build problem that we recently reported on for the Galaxy S5 is also noted.
This is a useful initial look at these two phones that are in the same kind of price bracket, and once you've checked it out below we'd like to know your decision. Are you more likely to opt for the Nokia Lumia 930 or the Samsung Galaxy S5?