Nokia Lumia X with Android L tantalizer with style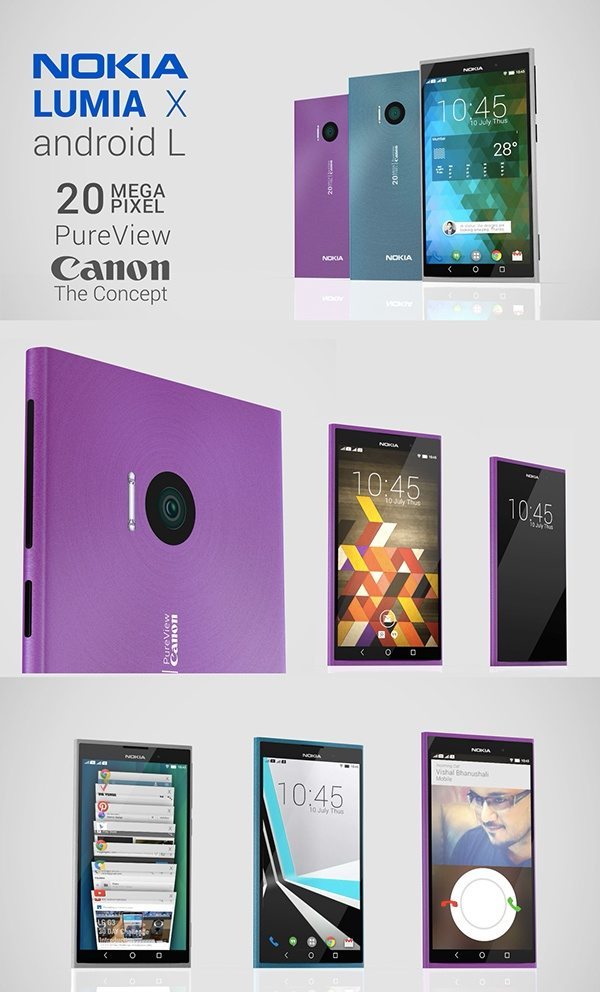 There have been some very interesting rumors lately about Nokia and its further development of Android phones. The Android-based Nokia X line was introduced this year as budget handsets, veering away from Windows Phone as the usual Nokia platform. More recently there has been talk of a Nokia Lumia device running Android, something that has got many people talking. Today we have a Nokia Lumia X with Android L design for you, as a tantalizer for what could come to fruition.
A few days ago we discussed the possibility of a Nokia Lumia high-end handset with Android and some of the questions this raised. While it can be hard to imagine such a thing, the prospect is made a little more believable when you take a look at this concept render of a Nokia Lumia X running Android L. The next major upgrade to Google's mobile operating system was recently unveiled at Google I/O and will make a public release in fall.
This idea for an Android Nokia Lumia phone was designed by Vishal Bhanushali, who also recently created an iPhone 6 Pro vision. His Nokia Lumia X also features Canon camera technology, something which has also been rumored recently for future Lumia handsets. It appears to be based on the Fabula Design with rounded edges and a flat back. It looks a little wide but at the same time sleek and stylish.
It features a 20-megapixel Pureview Canon rear camera, and what looks like Xenon and LED flash, and it's shown as running Android L, demonstrating the new multitasking. As for color options the handset is shown in attractive shades of purple, blue and silver. To make things even easier to imagine, the designer has also created a short video showing a Nokia Lumia X Android L concept tour. We've embedded the YouTube video below this story for your viewing pleasure.
When you've taken a look at the video below we'd be interested to hear your thoughts on this Nokia Lumia Android L idea. We really like this Nokia Lumia X design, but what about you? Is this anything close to what you'd like to see for a real Lumia Android phone?
Source: Behance
Via: Concept Phones