Motorola Moto X+1 in near-final state leaked in images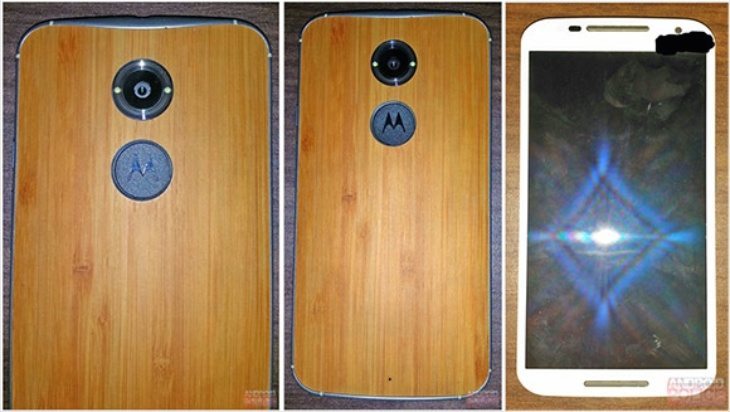 An upcoming smartphone that is evoking plenty of discussion lately is the Motorola Moto X+1, which some are referring to as the Moto X2. We know a new Motorola flagship will be released later this year and it looks likely that it will be the Moto X+1. We've already seen a leaked image purporting to be of the phone in the wild, and now some new Moto X+1 images have leaked that are claimed to be of a prototype of the phone in the near-final state.
Unconfirmed rumored specs about the Moto X+1 so far have included a 2.3GHz Snapdragon 800 quad-core processor, a 5.2-inch Full HD display, 2GB of RAM, and 32GB of internal storage. A 12-megapixel rear camera has also been mentioned. The previous leaked image we showed was taken at Google I/O in June, and the new photos that have come to light show the Moto X+1 with a custom wooden reverse and aluminum silver accents.

The leaker of the photos also gave new information about the Moto X+1 specs, most of which tallies with the previously leaked info above. However, the display is said to be 5.1-inches in size rather than 5.2-inches. The further leaked info also points to Adreno 330 graphics, no microSD storage expansion, a 2900 mAh battery, a dual LED flash for the 12-megapixel camera, and a 5-megapixel front-facing camera.
We've shown a few of the images here but you can see more at the source link below. We have no way of verifying these images but we'd like to know what readers think if we consider they are the real deal for now. Do you like what you see, and if these Moto X+1 leaks are accurate does this sound like a smartphone you might purchase?
Source: Android Police