LG Tick One Tizen phone inspired by Nexus 5 and G3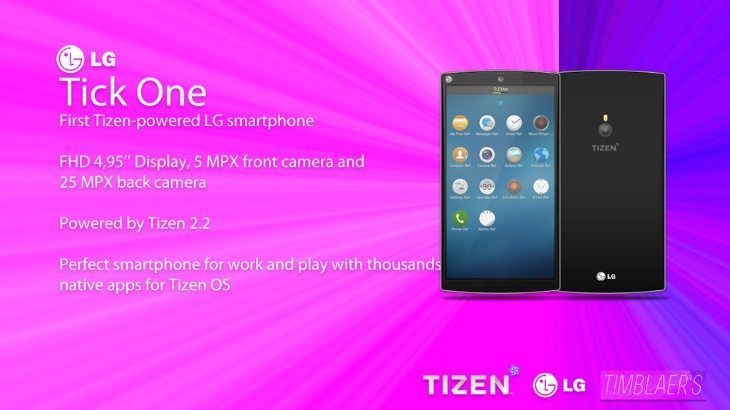 While the Android and iOS operating platform dominate the smartphone market it's always good to see new innovation in this field. One such newcomer is the Tizen mobile operating system, which is being supported by big player Samsung. Another major manufacturer is LG, and today we want to show you the LG Tick One Tizen phone, as a tantalizer for future possibilities.
The Samsung Gear 2 smartwatch runs the Tizen OS and last month the company announced the Samsung Z smartphone that will also run Tizen when it releases in Q3. Recently we also reported on rumors of a prospective Galaxy S5 variant running Tizen.
However, it's good to imagine what other manufacturers might come up with in the way of Tizen handsets. DeviantArt concept designer Timblaer has come up with the LG Tick One render that we are showing below.
This concept is tagged the "first Tizen-powered LG smartphone" and the specs include a 4.95-inch Full HD display, a 25-megapixel rear camera and a 5-megapixel front-facing shooter. It runs the Tizen 2.2 OS and the designer says that this vision is inspired by the LG-made Google Nexus 5 and LG G3.
It remains to be seen whether Tizen will make it through the early stages of adoption, but we feel this LG Tick One concept is nicely stylish and wonder what you think. Would you like to see a future LG smartphone running the Tizen OS? Let us know with your comments.
Source: DeviantArt
Via: Concept Phones