Galaxy Note 4 confirmed for Unpacked Episode 2 on September 3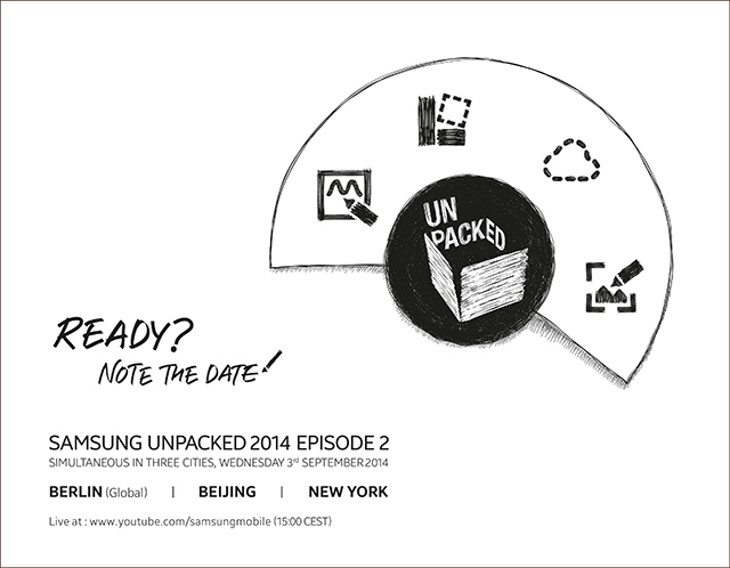 The Galaxy Note 4 is one of the worst kept secret of the year, and things got official this evening when the Unpacked Episode 2 invites went out and put the Note front & center.
The invite was posted online today by Samsung and it simply the line "Note the Date" basically says it all. Samsung is putting the Galaxy Note 4 on display September 3rd in a simultaneous event that will take place in not one, but three cities across the globe with Berlin, Beijing and New York.
We've talked about the Galaxy Note 4 at length and have even discussed a few of the possible designs last month. Nobody knows for sure what we'll see, but we fully expect at least a 5.5-inch QHD display on par with the LG G3 and 3GB of RAM. The chip that powers it all is thought to be a Snapdragon 805, and you're probably looking at a 16MP/5MP if they give both shooters an upgrade.
Fingerprint scanners and UV sensors are also tipped to be features, and it's a safe bet Samsung will roll out some new health apps as well. That said, we thought we would see Prime versions of the Galaxy S5 and HTC M8 earlier this year and those never materialized. At the moment, Samsung is the holding all the cards, and they've put on a pretty good poker face so far.
Even though we have a date, there's no chance the speculation surrounding the Galaxy Note 4 will die down. We still haven't seen a leak of the actual handset, but there are still three weeks to go so anything is possible. Do you think Samsung can keep the Note 4 under wraps until September 3?