OnePlus One vs LG G3 quick video comparison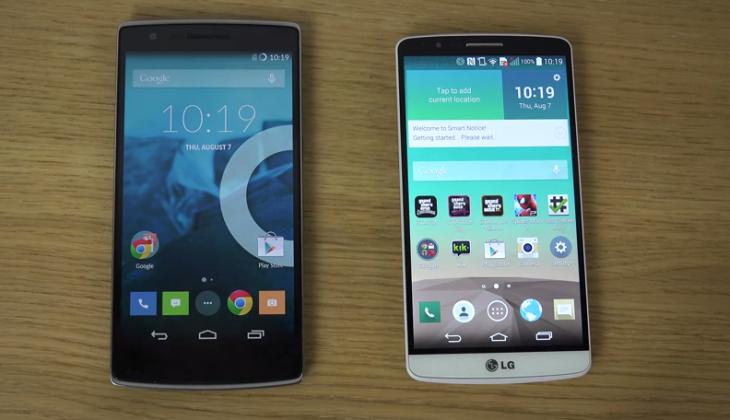 The Android smartphone market has already been treated to some great high end handsets this year which can lead to some consumers having difficulty choosing which device to purchase. Luckily many of these devices get compared against each other and today we have a quick video comparison of the OnePlus One vs. LG G3.
Both handsets have now been made available in certain regions although the OnePlus One is harder to come by, but both of these devices have already grabbed a lot of attention from fans of the Android platform.
We have already given you a brief comparison of these two handsets but this focussed more on the specifications of each device, while the YouTube video we have today is actually looking at the two smartphones in action side by side.
The video that can be seen below this article begins by showing us the two smartphones next to each other, and it is pointed out at an early stage that the LG G3 features a QHD display providing a very high screen resolution.
It is questioned by the reviewer if there is any need for such a high resolution but it is noted that it is pretty cool and great for reading text. This compares to the Full HD display on the OnePlus One before the rear of the two devices is discussed.
Despite being plastic the LG G3 has a premium feel to it and we get a look at the set up of the rear camera with its laser autofocus feature that is really liked. The fact that the OnePlus One is a lot cheaper than the LG G3 is discussed and despite this the material used for the back of the handset is liked.
The physical sizes of the two smartphones are very similar although the LG G3 is slightly shorter while both of them have a 13-megapixel rear camera. We then get to have a quick look at the camera set up on both devices and the UI of the OnePlus One is liked.
On the front of the OnePlus One is a higher resolution front facing camera before the video goes on to give us a quick look at the operating systems. Check out the full video and tell us which handset you prefer.